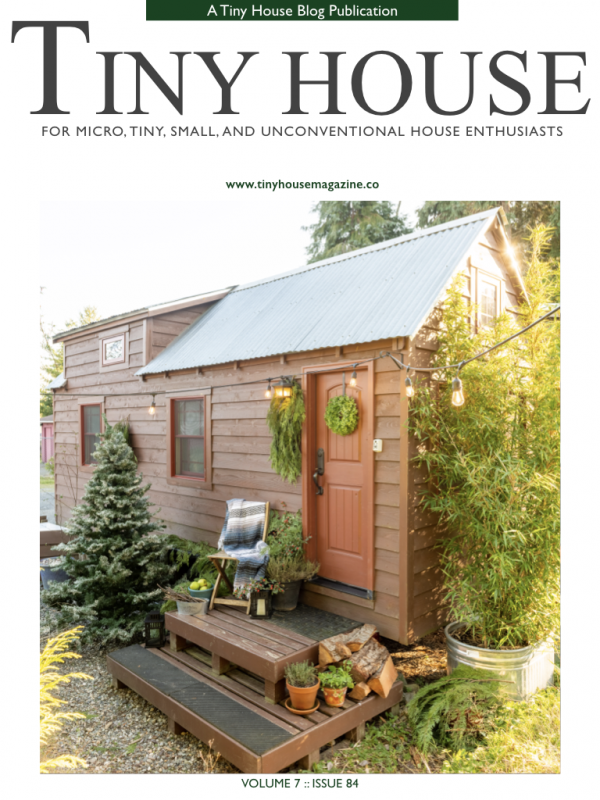 Purchase Options
Available for iOS / Android
In This Issue
Tiny Home For The Holidays

How does one family celebrate Christmas and the holiday season in a tiny house? What if they have a couple of kids?

Tiny House 4.0

As we step into the new year, we cross the threshold into an exciting new era, and I wish to formally introduce incoming president of the Tiny Home Industry Association (THIA) ~ Dan Fitzpatrick.

Hidden Ledge Drop Down Table

DIY expert Chris Strathy shows how to make another simple addition to any small space—just in time for Christmas.

Living And Working The RV Lifestyle

Duties would vary from taking calls and scheduling other RVers to stay (also known as a Camp Host), stocking store shelves, using a register or credit card terminal, computer skills, etc.

A Little Eye Candy

The 624 square foot "Fulton" built by Wishbone Tiny Homes is a perfect example of the big ideas that can easily be found in a tiny house.
Purchase Options
Available for iOS / Android
About Tiny House Magazine
Learn about the Tiny House Lifestyle with no distractions in magazine format.
Learn from real people living the tiny life style; the good and the bad.
Discover different types of tiny houses from liveaboard boats to Alaskan yurts, converted school buses to high wall tents.
Try recipes from a tiny house kitchen. Each month we feature a recipe from the Tiny House Foodie. Learn to make it work and still cook like a pro.
Hear from those living with kids in a tiny house. What happens when you build for two but end up with four? Can it really be done?
See scenes from tiny house festivals, workshops, and events!
Read excerpts from books on tiny houses, downsizing, and a host of other related topics.
Each month brings new topics and new, exciting articles!
Category: Crafts & Hobbies, DIY, Family & Home, Lifestyle
Publisher: Tiny House Magazine
Published: Monthly
Language: English
Compatibility: iOS / Android
Peek Inside
Tap images to enlarge...
About The Publisher
Kent Griswold has published the Tiny House Blog since 2007 and created the Tiny House Magazine in 2013. An avid tiny house enthusiast promoting the... read more
Past Issues
Tap below for more from Tiny House Magazine Magazine