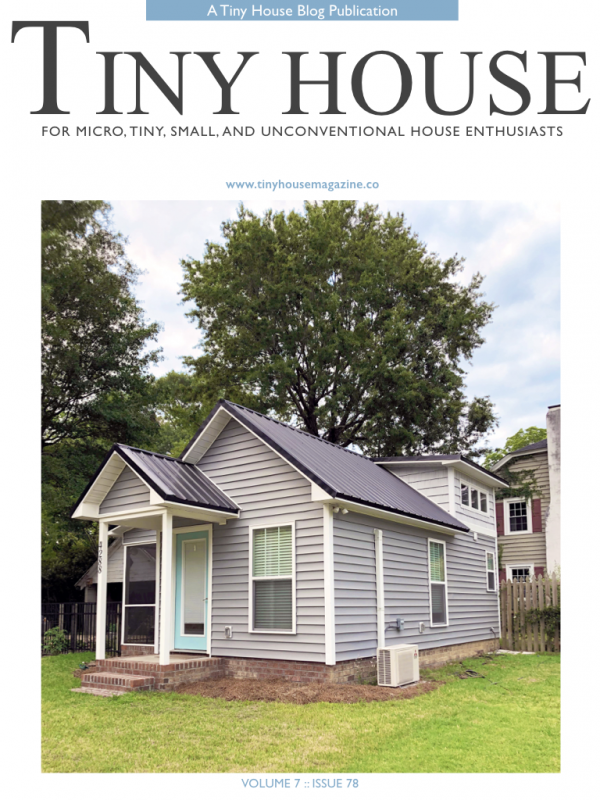 Purchase Options
Available for iOS / Android
In This Issue
Gypsy Bliss Wagon Rvs By Simblissity

Colorado based tiny house builders SimBLISSity are now building, selling, and renting, some of the most petite but high-functioning THOWs available.

Kings And Queens Of The Road

ARI Legacy Sleepers have been known for decades as the tractor trailer sleeper standard of excellence. Now their true tiny house on wheels is gaining attention from the tiny house movement.

Rethinking Tiny

Professional boat builder Brian Schulz and his girlfriend Liz are building a detail oriented tiny house on wheels and documenting every step of the process with gallery-worthy photography, amazing video, and daily posts.

In One Suitcase I Got All I Need

As I reflect on Tiny House Living Festivals, there are so many ways to live smaller for a huge life. In the song "Suitcase" performed by Sia, the refrain echoes, "Pack it all away / pack it all in one suitcase / I got all I need / all I need to be free."

Tiny House Stepping Stone: A case for the non-forever [tiny] home

It is unfortunate that the fear of "plans changing down the road" stops people from pursuing something that they think could have a very positive impact on their lives rather immediately.
Purchase Options
Available for iOS / Android
About Tiny House Magazine
Learn about the Tiny House Lifestyle with no distractions in magazine format.
Learn from real people living the tiny life style; the good and the bad.
Discover different types of tiny houses from liveaboard boats to Alaskan yurts, converted school buses to high wall tents.
Try recipes from a tiny house kitchen. Each month we feature a recipe from the Tiny House Foodie. Learn to make it work and still cook like a pro.
Hear from those living with kids in a tiny house. What happens when you build for two but end up with four? Can it really be done?
See scenes from tiny house festivals, workshops, and events!
Read excerpts from books on tiny houses, downsizing, and a host of other related topics.
Each month brings new topics and new, exciting articles!
Category: Crafts & Hobbies, DIY, Family & Home, Lifestyle
Publisher: Tiny House Magazine
Published: Monthly
Language: English
Compatibility: iOS / Android
Peek Inside
Tap images to enlarge...
About The Publisher
Kent Griswold has published the Tiny House Blog since 2007 and created the Tiny House Magazine in 2013. An avid tiny house enthusiast promoting the... read more
Past Issues
Tap below for more from Tiny House Magazine Magazine