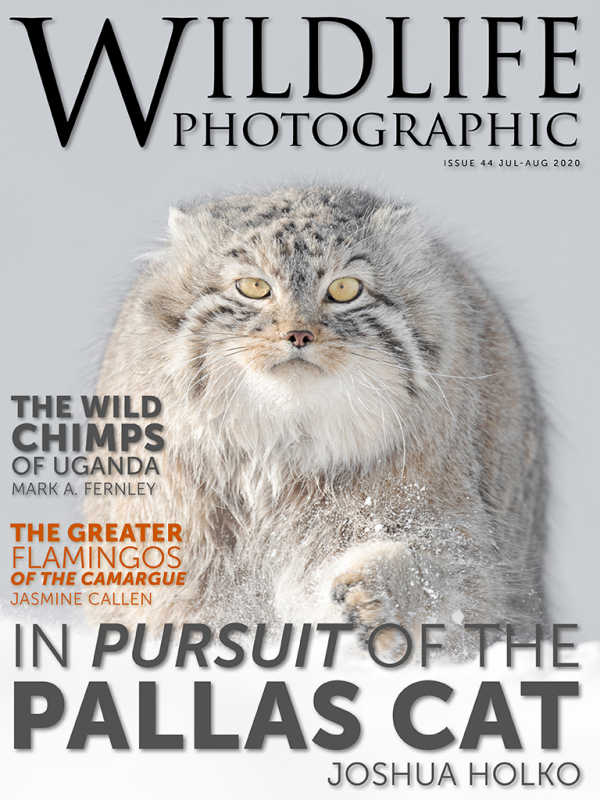 Purchase Options
Available for iOS / Android
In This Issue
Field Notes: Experienced Wildlife Photographers Share the Story Behind the Image

David and Pui Hang Miles reveal how they took this beautiful photo of an Arctic ground squirrel, or as the Inuit call it, a siksik. Included is the equipment they used and the camera settings.

Wildlife Photography Tips: Photographing Chimps in Uganda

Mark A. Fernley photographs common chimpanzees, which along with the infamous bonobo, are the closest living relatives to the human.

Cat Photography: In Pursuit of the Pallas Cat

Joshua Holko shares his expedition Diary: photographing the small wild cat that lives in the high steppe regions of Mongolia, that most people have never heard of.

Bird Photography: Photographing Flamingos

Jasmine Callen describes her wildlife photographic journey in the Camargue region in the south of France photographing the indigenous flamingoes.

Editor's Choice of Reader Submitted Wildlife Photographs

WP Editor Bill Gozansky showcases the best images submitted by readers from around the world.

Wildlife Photography Tips: Photographing Smaller Creatures

Bill Gozansky reminds us not to overlook the little things in wildlife photography. It isn't just about the megafauna.

Professional Wildlife Photographer Critiques Reader Submissions

WP editor and award-winning professional wildlife photographer Bill Gozansky provides pro tips and advice on reader-submitted wildlife photos - how to take your wildlife photo compositions from good to great.

African Safari Wildlife Photography: A Once in a Lifetime Wildlife Photography Experience

Nick Dale takes us on an epic 122 Day African Safari, teaching photography and taking pictures at four lodges owned by &Beyond in Tanzania and Cottar's in Kenya.

Wildlife Photography Gear and Life: 10 Questions with Gary Meredith

Gary Meredith, a professional wildlife photographer, reveals about what gear he can't live without, what's inside his camera bag that would surprise you, his top locations, tips, and the shots that he wishes he captured, and much more!

Supporting Wildlife Conservation

If you represent a wildlife conservation group and would like to see your organization featured in Wildlife Photographic Magazine, we would love to hear from you.
Purchase Options
Available for iOS / Android
About Wildlife Photographic Magazine
Category: Arts & Photography, Travel & Destinations
Publisher: Wildlife Photographic Magazine
Published: Bi-monthly
Language: English
Compatibility: iOS / Android
Peek Inside
Tap images to enlarge...
Past Issues
Tap below for more from Wildlife Photographic Magazine