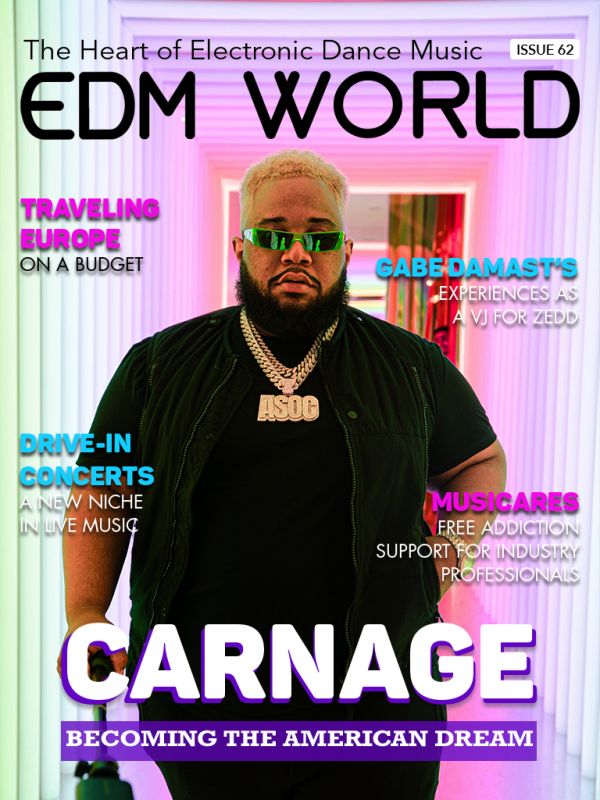 Purchase Options
Available for: iOS/Android App + Web Reader
Purchase Options
Available for: iOS/Android App + Web Reader
About EDM World
EDM World Magazine is for EDM fans, DJs and Producers who want to stay up to date on everything that's happening in the world of the electronic dance music scene. We are the #1 Electronic Dance Music Magazine App in the world. Inside, you'll discover:
"Exclusive Cover Feature" interviews with top Electronic Dance Music producers within popular sub-genres including House, Dubstep, Electro, Techno, Trap, Trance, Progressive, Hardstyle and Drum & Bass
Inspiring "PLUR Stories" with fans discussing how music has saved, changed, and transformed their life. Discover real, raw, and vulnerable truths straight from fans hearts including triumphant comebacks from crippling depression, anxiety, loss, and loneliness
"Festival Reviews" of top music festival such as Electric Daisy Carnival, Ultra Music Festival, Electric Zoo, Tomorrowland, Electric Forest, Lollapalooza, Bonnaroo, Nocturnal Wonderland, Something Wicked, Shaky Beats
"People Behind The Artists" includes Interviews with experienced music industry professionals such as Managers, Public Relations, Promoters, Record Label Execs, A&R's, Audio Engineers, Lighting, Coaches, and Consultants
"Exclusive Photo Features" with some of the most popular music photographers in the scene today
"Artists to Watch" interviews with new up and coming talent before they break into the mainstream including secrets to land an opening set at music festivals and tour with the best DJs in the world
"Must Have Apps" to connect, enhance, and use with your rave family. Create and improve your beat making skills on the go
"Festival Fashion & Makeup Tutorials" for your next look to stand out from the crowd and feel confident in your body wearing unique rave wear and makeup brands
"How To & Guides" every raver needs to know for the ultimate music festival bucket list experience
"Opinion" articles to push the community forward in a positive direction by shining the light on where the scene has come from such as the birth of techno and the history of kandi
Category: Dance, Lifestyle, Music, Travel & Destinations, Entertainment
Publisher: EDM World
Published: Monthly
Language: English
Compatibility: iOS/Android App + Web Reader
Peek Inside
Tap images to enlarge...
About The Publisher
The year was 2002, and our founder Denice Dal Braccio was sitting in her room in New Jersey looking for an outlet to release the pain she felt after losing her... read more

Past Issues
Tap below for more from EDM World