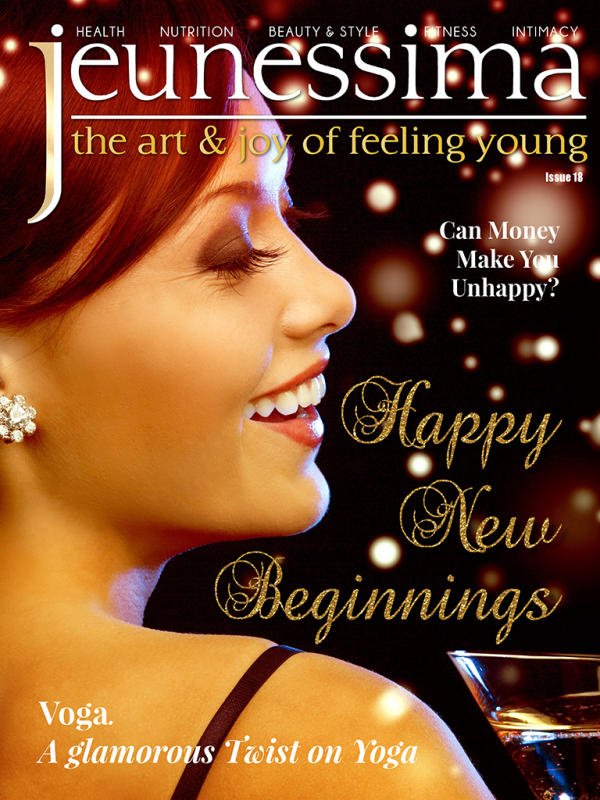 Purchase Options
Available for: iOS/Android App + Web Reader
In This Issue
Some Peace and Quiet … Please

Do you wish for some peace and quiet, just for a little while? This is the technology that can really help!

Jeunessima Café

When asked 'If my Body could talk, it would say…?' women around the world answered …

From Fashion and Fatigue to Vogue and Yoga

This Issue's Jeunessima Doyenne is Juliet Murrell, creator of a new glamorous fitness trend that has quickly spread around the world

How to Hygge

The Scandinavians are the happiest people in the world. And Hygge might be the reason why. Find out what is behind this trend

Can Money Make You Unhappy?

Money cannot buy you happiness … or is that just a platitude dreamt up by the jealous?

Bio Finesse. The Woman's Starter's Guide to Being Your Very Best Self

We always try to improve ourselves but so many approaches fail. Discover why Bio Finesse is the way forward for you

VOGA. A Glamorous Twist on Yoga

Love yoga but wish it was a little more energetic? VOGA is the fusion of yoga, dance and '80s fashion that is a glamorous new way of staying fit and happy

The Top Winter Make-up Palettes that Give You a Gorgeous, Glowing Skin

Former model Ruth Crilly shares with you the make-up palettes that give you a gorgeous winter glow that makes you feel your best

Jeunessima News

Regulate your genes. Slow aging. Improve your workout. Cool your body … Discover the latest tips, tricks and research on how to live fabulous over 40, 50, 60, … and beyond

Indulging in the Festive Season … The Ketogenic Way

Want to go low-carb over Christmas but do not want to miss out? Jimmy Moore shares his recipe for a delicious Paleo Pumpkin Cheesecake!
Purchase Options
Available for: iOS/Android App + Web Reader
About Jeunessima
Jeunessima is THE lifestyle magazine for busy women over 40 who want to enjoy life … every day … at any age.
We share with you the most effective tips & research on how you can get the best results for your health, wellness, biofinesse, biohacking, nutrition, fitness, mind, antiaging … with the least amount of effort.
Category: Fashion, Sports & Fitness, Health & Nutrition, Lifestyle, Wellness & Meditation, Women's
Publisher: Jeunessima
Published: Bi-monthly
Language: English
Compatibility: iOS/Android App + Web Reader
Peek Inside
Tap images to enlarge...
About The Publisher
Jeunessima is THE Lifestyle Company for busy women over 40 who want to enjoy life... every day... at any age. I am Ines... Dr Ines O'Donovan, PhD, the... read more

Past Issues
Tap below for more from Jeunessima