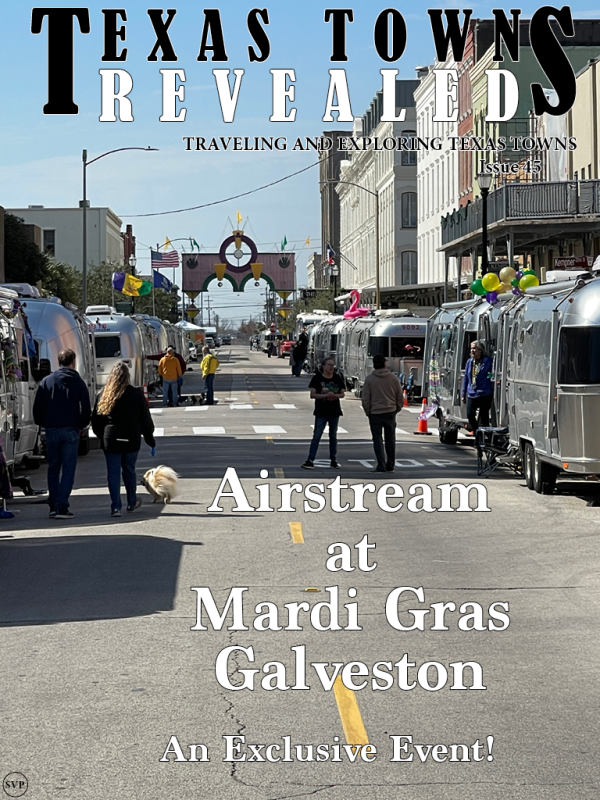 Purchase Options
Available for: iOS/Android App + Web Reader
In This Issue
Airstream at Mardi Gras Galveston

Imagine parking your Airstream on the side of a main street in downtown Galveston and for 3 days having all the mardi gras parades and floats pass next to you down that street! Electricity was supplied to all the airstreams. Spend the day and night in your Airstream and wake up to Mardi Gras outside your door! That's exactly what has occurred for the past 2 years at the Galveston Mardi Gras. Events, food, shopping, entertainment and concerts are all within 3 blocks. And don't forget all the friends you meet in the Airstreams that line the street. 2023 was the second year of "Streamin' on the Strand" and the 112th year of Mardi Gras Galveston. Held on Feb 10-12, 17-19, and 21st. It was a Hurculean task for Region 9 which had the help of many in other regions as well as local sponsors and contributors.
Purchase Options
Available for: iOS/Android App + Web Reader
About Texas Towns Revealed Magazine
Texas Towns Revealed Magazine – Traveling and exploring Texas towns to bring you the information you need to know for small town travel. Read about the town's history, facts, events, services, points of interest and view special videos provided inside the magazine. Published quarterly (4 issues per year).
Category: Arts & Photography, Family & Home, Lifestyle, Travel & Destinations
Publisher: Texas Towns Revealed Magazine
Published:
Language: English
Compatibility: iOS/Android App + Web Reader
Peek Inside
Tap images to enlarge...
About The Publisher
Welcome to Texas Towns Revealed, the magazine that highlights the history and intrigue of Texas towns. This magazine started somewhat unexpectedly... read more
Past Issues
Tap below for more from Texas Towns Revealed