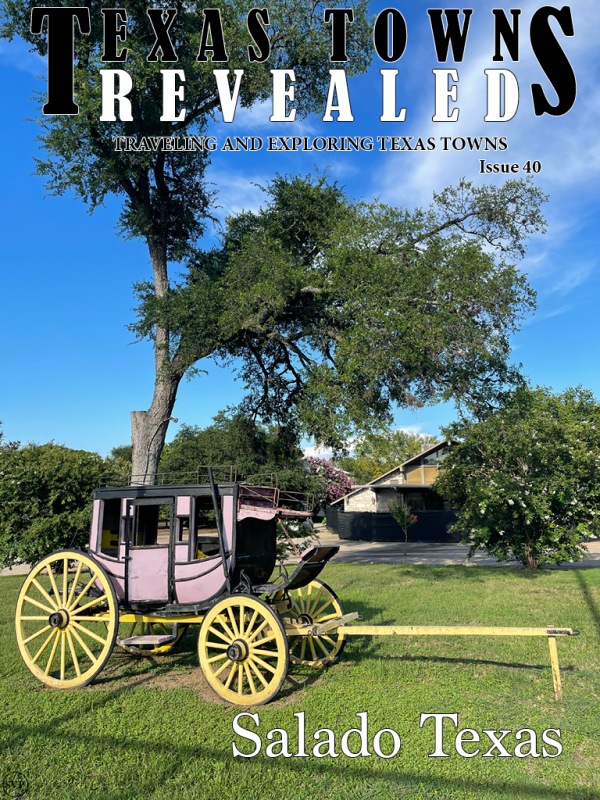 Purchase Options
Available for iOS / Android / Web Reader
In This Issue
Salado Texas

Salado is located on Salado Creek adjacent to Interstate Highway 35 between Waco and Austin in Bell County. Salado Creek was the first designated Texas natural landmark in 1966. Archibald Willingham was the first permanent Anglo-American settler in 1850. The post office was established in 1852. The town was founded directly as a result of the establishment of Salado College. Salado was founded on October 8, 1859, along with the founding of Salado College. Col. Elijah Sterling C. Robertson offered to donate 320 acres to a corporation to sell stock (with the proceeds of the sale going to build a college) and lay off the land into lots for a town to be called Salado. Salado prospered as an educational, industrial, and agricultural center. In 1884, Salado boasted of 7 churches, 14 stores, 2 hotels, 2 blacksmiths, and 3 cotton gins.
Purchase Options
Available for iOS / Android / Web Reader
About Texas Towns Revealed Magazine
Texas Towns Revealed Magazine – Traveling and exploring Texas towns to bring you the information you need to know for small town travel. Read about the town's history, facts, events, services, points of interest and view special videos provided inside the magazine. Published quarterly (4 issues per year).
Category: Arts & Photography, Family & Home, Lifestyle, Travel & Destinations
Publisher: Texas Towns Revealed Magazine
Published:
Language: English
Compatibility: iOS / Android / Web Reader
Peek Inside
Tap images to enlarge...
About The Publisher
Welcome to Texas Towns Revealed, the magazine that highlights the history and intrigue of Texas towns. This magazine started somewhat unexpectedly... read more
Past Issues
Tap below for more from Texas Towns Revealed