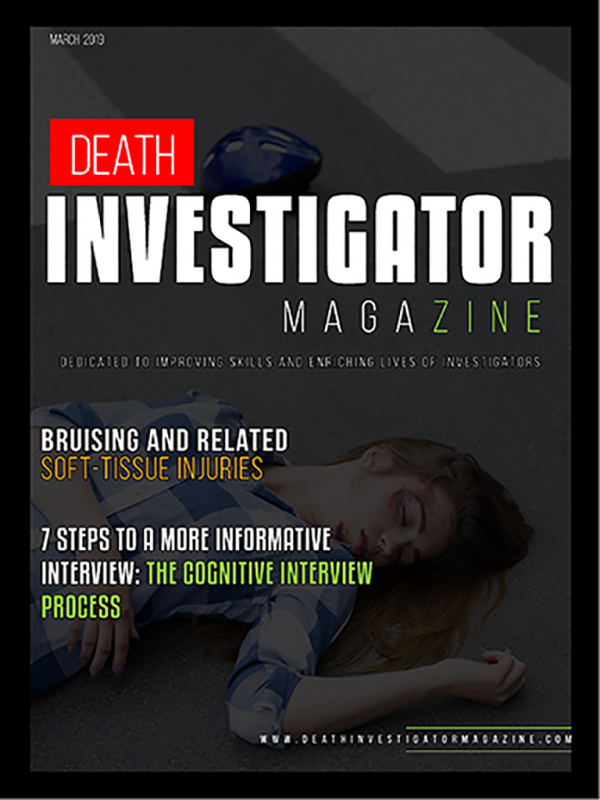 Purchase Options
Available for:
In This Issue
Bruising And Related Soft-Tissue Injuries

Bruising is often confused with other injuries and non-injuries . In analyzing the bruising of a subject, the aging of a bruise comes into question, which is not an exact 'science' any more than determining the time of death is an exact science; although both use science to facilitate determinations.

Area Canvassing - What do Neighbors Know?

I will admit that conducting an area canvass can be tedious and very time-consuming. Sometimes, hundreds of contacts are made without one shred of usable information being unveiled. However, it is that one exhilarating jewel that is occasionally discovered that makes the process so rewarding.

7 Steps to a More Informative Interview: The Cognitive Interview Process

There are seven specific steps to complete a cognitive interview effectively. The cognitive interview is not just for victims and witnesses, but detectives can also use it when interrogating suspects.

The Question of Suicide Equivocal Death Investigations Part 2

The top ten repeated statements and questions that bring rise to an equivocal death case review.

Five Spiritual Strategies to Find Your Safe Place

We often wonder where first responders go for peace of mind and rest. After ensuring the safety of others, how do they find their own personal safe place? In this article author Karen Jordon shares some real life options to protecting our mental health.
Purchase Options
Available for:
About Death Investigator
A digital magazine focused on the death investigation community. Dedicated to improving skills and enriching lives of investigators. Serving a wide range of professions; coroners, medical examiners, police, pathologist, pathology assistants, forensic nurses, private investigators, and more.
Category: Careers, Education, Medical, Personal Development
Publisher: Death Investigator
Published: Quarterly
Language: English
Compatibility:
Peek Inside
Tap images to enlarge...
About The Publisher
Many magazines are distributed every month directed at law enforcement in general. Lacking in the industry are publications focusing on the jobs and lives of... read more

Past Issues
Tap below for more from Death Investigator