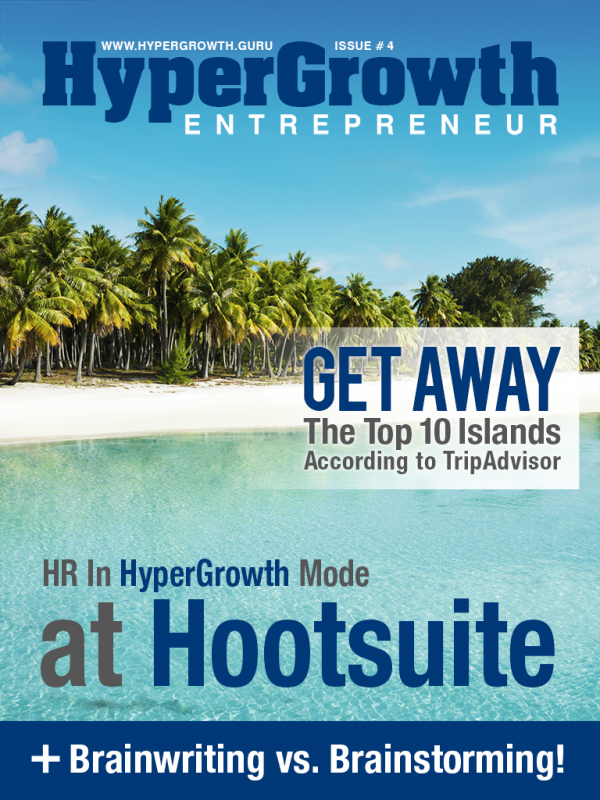 Purchase Options
Available for: iOS/Android App + Web Reader
In This Issue
HR in hyper-growth mode at Hootsuite

In less than 10 years, Canadian-based social media management company Hootsuite has grown rapidly, boasting over 11 million users – including 744 of the Fortune 1000 companies – as well as offices globally. How did they do it?

Brainwriting: A More Perfect Brainstorm

Although group brainstorming is an incredibly popular creativity technique, it has a number of well-recognized shortcomings. According to Michael Russell, a superior method of tapping a team is Brainwriting! You have to read this…seriously.

Four Things Startups Can Learn From Target's Mistakes

"Too much too fast." The extremely high burn rate: Target invested nearly $2-billion into its initial expansion, building new stores and taking over leases for Zellers locations across the country. Brian Cornell, Target's chairman and CEO, has since admitted that the company got burned in part for "taking on too much too fast."

Time Management Is Dead: Long Live Energy Management

Time management is dead! There is a new sheriff in town and he is called "Energy Management". If you want to be truly productive, you need to manage your energy properly. No lifehack, productivity app, or time management technique can help you, if you are wiped out on a Tuesday afternoon and don't even have the energy to get up from your desk.

Top Ten Islands Around the World

When I picture my dream holiday, I envisage crystal blue waters, miles of white grainy sand and lush-green surroundings; most importantly the concept of being secluded from crowded metros and sky-scraping marvels. Yes, we are taking a glimpse at the world's top islands.

Game Plan For Business Breakthrough - The Case For Assessments

Greg Smith has been in the human performance game for over 25 years. He started as an executive recruiter but quickly discovered that the initial impression that one got in the face-to-face interviews was not a reliable criteria for identifying or placing top-performing candidates. That led him to begin a search for performance tools that could actually see BEHIND THE INTERVIEWING MASK and provide reliable indicators of probable performance that he could trust… based on science. See what he found.
Purchase Options
Available for: iOS/Android App + Web Reader
About Hyper Growth
HyperGrowth Entrepreneur gives you battle hardened strategies, tips, and secrets to help you scale your business.
It's the only business magazine app that has a professional business coach provide you more insight after each article.
PLUS, it offers you access to free training. Join our group today.
Category: Business & Entrepreneurship, Education, Personal Development
Publisher: Hyper Growth
Published: Quarterly
Language: English
Compatibility: iOS/Android App + Web Reader
About The Publisher
In the beginning... Because Coach Gusty does his coaching either across the desk or across the internet, he gets to interact with a variety of entrepreneurs.... read more

Past Issues
Tap below for more from HyperGrowth