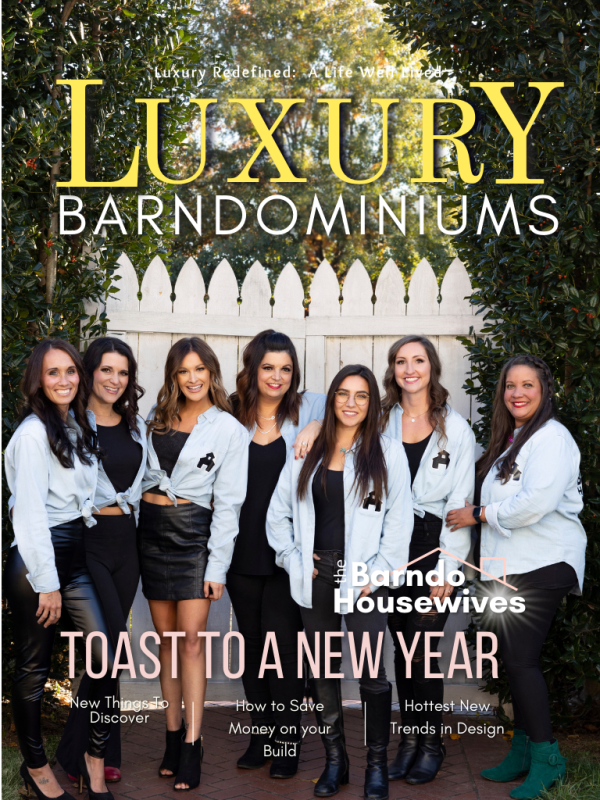 Purchase Options
Available for: Print, iOS/Android App + Web Reader
In This Issue
The Barndo Houswives

The little Texas Farm that is helping families capture memories that last a Lifetime

Advice for Building

The Barndo Housewives share what they have learned in their build journey.

Staying in Budget during your building

With todays volatile market. it can be challenging to stay in budget. Learn some things that you can do to save money, and headaches, on your build.

Forget resolutions : start with HABIT CREATION

Most resolutions are broken by Jan 15th. Being intentional and creating habits, can set you on a path of success for the rest of the year.

Home Trends

Some of the Hottest new trends in design and building for 2022

Ways to Prepare for the NEW YEAR

With every new year comes a clean slate —a chance to tie up loose ends, to put order back into things, to start fresh.

4 Recipes To Try This New Year

Easy to prep recipes that you and your loved one can cook up in the kitchen!

Packing Holiday Decorations

With all of the excitement that the holidays bring, there can also be looming apprehension about packing all the decor away and storing them back in the attic at the end of the season.
Purchase Options
Available for: Print, iOS/Android App + Web Reader
1. Choose Your Magazine Format
Pricing will be updated based on your selections
2. Choose Your Pricing Option
About Luxury Barndominiums Magazine
Helping You Create a
Life You Love...
What is Luxury? Luxurious experiences, clothes, cars, and homes have a feeling about them that fulfills the senses. Your home in particular, can fulfill your senses in ways you may have not considered. When building your home in the past, this may have meant picking out marble for countertops and backsplashes, high-end bathroom fixtures, and refined woods for flooring. You were creating beauty as well as spaces that would feel good to be in. While the quality of materials is still an integral part of building your dream home, there is a shift that is happening. Luxury is being redefined and Barndominium design and the lifestyle it promises; are posed to make a great impact on what Luxury truly is.
Category:
Publisher: Luxury Barndominiums Magazine
Published: Bi-monthly
Language: English
Compatibility: Print, iOS/Android App + Web Reader
Peek Inside
Tap images to enlarge...
Past Issues
Tap below for more from Luxury Barndominiums Magazine