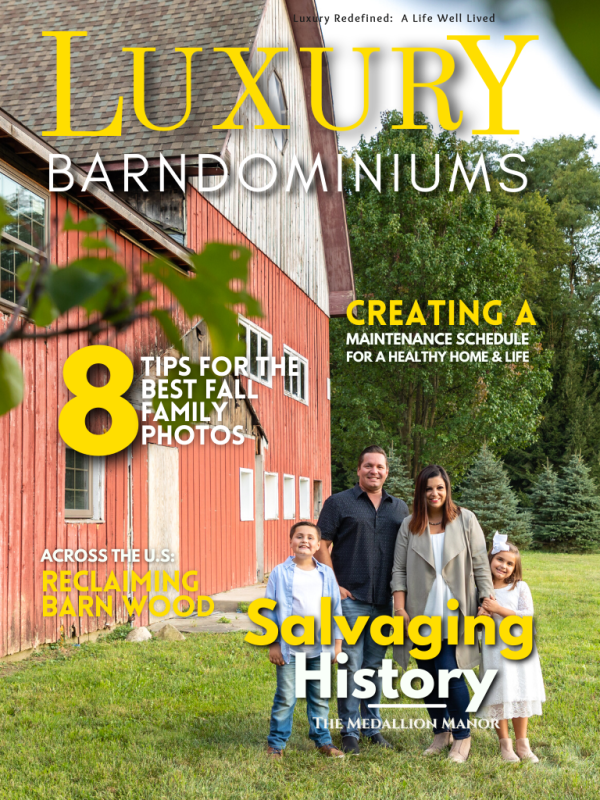 Purchase Options
Available for: Print, iOS/Android App + Web Reader
In This Issue
Shelley's Kitchen

As a nutrition chef, Shelley loves showing others how to put a healthy spin on traditional holiday recipes.

Every Barndo Has a Story

Barndominium Designer Stacee Lynn, believes every home has a story to tell. She sits down with one of her valued clients, Whitney Holcomb of Rust and Roots, to discuss their build journey and what Barndo Living means to them.

Post Pandemic Fitness

Regardless of what your thoughts are on the opening/reopening, masks/no masks issues, we can all agree that returning to our former normal lives may not be achievable, or even desirable.

Fireplaces

Why fireplaces continue to be a mainstay in home design.

Being A Barndo Newbie

Starting your barndominium journey can be daunting and a little overwhelming, but you are not alone. There is a wealth of knowledge, and support out there to make it easier.

Balancing ACT

How to incorporate different elements into your design.

Reclaiming Barn Materials

Discover the best sources for reclaimed barn materials throughout the country.

Schedule for a Healthy Life & Home

Maintaining emotional and physical wellbeing in every area of our lives.

Building Matters

The hurdles you and your builder may be facing in today's market.
Purchase Options
Available for: Print, iOS/Android App + Web Reader
1. Choose Your Magazine Format
Pricing will be updated based on your selections
2. Choose Your Pricing Option
Pricing includes your selection of: Apps + Web Reader
Pricing includes your selection of: Apps + Web Reader / Print
Pricing includes your selection of: Apps + Web Reader / PDF
Pricing includes your selection of: Apps + Web Reader / PDF / Print
About Luxury Barndominiums Magazine
Helping You Create a
Life You Love...
What is Luxury? Luxurious experiences, clothes, cars, and homes have a feeling about them that fulfills the senses. Your home in particular, can fulfill your senses in ways you may have not considered. When building your home in the past, this may have meant picking out marble for countertops and backsplashes, high-end bathroom fixtures, and refined woods for flooring. You were creating beauty as well as spaces that would feel good to be in. While the quality of materials is still an integral part of building your dream home, there is a shift that is happening. Luxury is being redefined and Barndominium design and the lifestyle it promises; are posed to make a great impact on what Luxury truly is.
Category:
Publisher: Luxury Barndominiums Magazine
Published: Bi-monthly
Language: English
Compatibility: Print, iOS/Android App + Web Reader
Past Issues
Tap below for more from Luxury Barndominiums Magazine