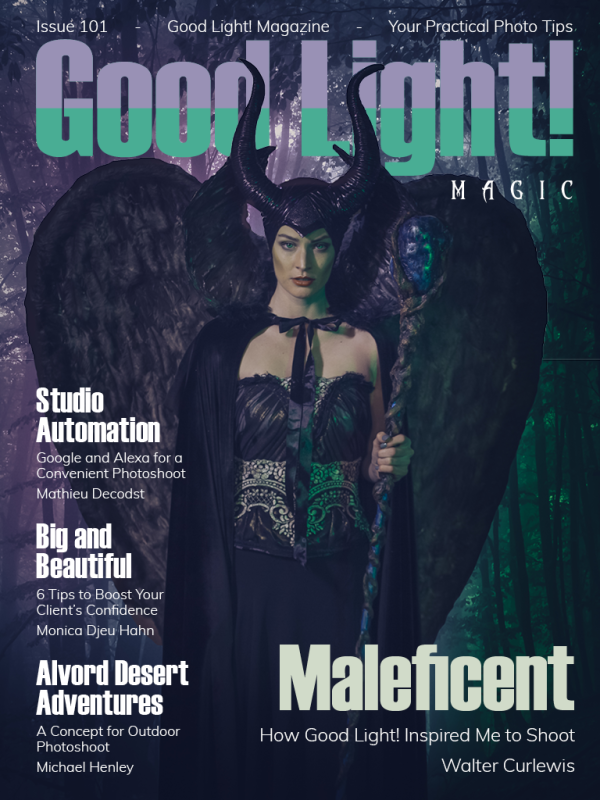 Purchase Options
Available for: iOS/Android App + Web Reader
In This Issue
How Good Light! Inspired me to Shoot
Google and Alexa for a Convenient Photoshoot
6 Tips to Boost Your Client's Confidence
A Concept for Outdoor Photoshoot

Maleficent

Walter Curlewis' journey started with inspiration from various sources. From workshops to creating mood boards, photography sessions and magazines, he eagerly consumed any subject-matter material on photography he could get his hands on. As a self-taught photographer who was eager to seek knowledge, he found Good Light! Magazine and found inspiration from the various articles that taught step-by-step insight on how they created the photos. His story is one of determination, inspiration, and mastery.

Studio Automation

Mathieu Decodst is a multidisciplinary artist whose artistic background of working on pencil, paint and clay led him to his passion for photography. As a full-time photography teacher, one of his photographic aims is to treat photography as an art form as well as enable photographers to maximize productivity through convenient photoshoots. His tips on using smart assistants upgrades convenience to a digital level.

Big and Beautiful

Monica Djeu Hahn takes us to another stellar portraiture session. One of her specializations as a portrait photographer is the ability to make her clients feel and look beautiful. From wardrobe options, camera angles, posing and other vital tips, she delivers adept insight on how to make clients feel confident in any form. Monica teaches us that it is vital and possible to capture beauty in any of your client as long as you bring out the confidence in them.

Alvord Desert Adventures

Michael Henley once again shows us that a photoshoot adventure is always a good idea. Scout your locations and do your homework. Try to control as many variables as possible so you can deal with those that you can't in a photoshoot. This clay-inspired shoot demonstrates Michael's expertise at being versatile and artistic at the same time.

Cover

Model: Sadie-lee Hansen, Makeup Artist: Carla Gouws, Photographer: Walter Curlewis.
Purchase Options
Available for: iOS/Android App + Web Reader
About Good Light Magazine
Inspiring Images
Reliable Lighting Setups
Charming Poses
Pro Tips and Techniques
Practical Downloads
Category: Arts & Photography, Education, Lifestyle
Publisher: Good Light Magazine
Published: Monthly
Language: English
Compatibility: iOS/Android App + Web Reader
Peek Inside
Tap images to enlarge...
Past Issues
Tap below for more from Good Light Magazine