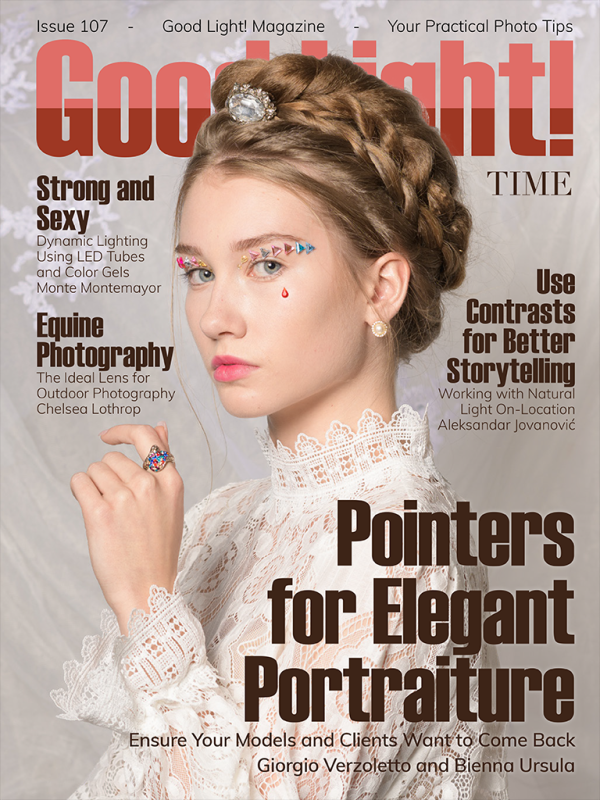 Purchase Options
Available for: iOS/Android App + Web Reader
In This Issue
Pointers for Elegant Portraiture

Getting people to be at ease during photoshoot sessions and making the most of it can be difficult to imagine but it's not that difficult. Giorgio Verzoletto shares with us pointers for portraiture that will improve your clientele game.

Use Contrasts for Better Storytelling

Photographers usually have an eye for beauty and can spot what can be improved in the model even before the shoot takes place. Learn how to use contrasts and concepts while working with natural light on location for better storytelling

Strong and Sexy

Monte Montemayor shares with us different elements that make a photoshoot successful. From lighting to client relations, collaborations and post-processing, each of these elements are vital to making a dynamic photoshoot.

Equine Photography

While we mostly focus on people photography, equine photography is a genre for equestrian and horse enthusiasts. Find out the perfect lens for equine and outdoor photography that demonstrates a bright maximum aperture ideal for shooting in natural light.

Cover

Model: Keely Campbell, Photographer: Giorgio Verzoletto.
Purchase Options
Available for: iOS/Android App + Web Reader
About Good Light Magazine
Inspiring Images
Reliable Lighting Setups
Charming Poses
Pro Tips and Techniques
Practical Downloads
Category: Arts & Photography, Education, Lifestyle
Publisher: Good Light Magazine
Published: Monthly
Language: English
Compatibility: iOS/Android App + Web Reader
Peek Inside
Tap images to enlarge...
Past Issues
Tap below for more from Good Light Magazine