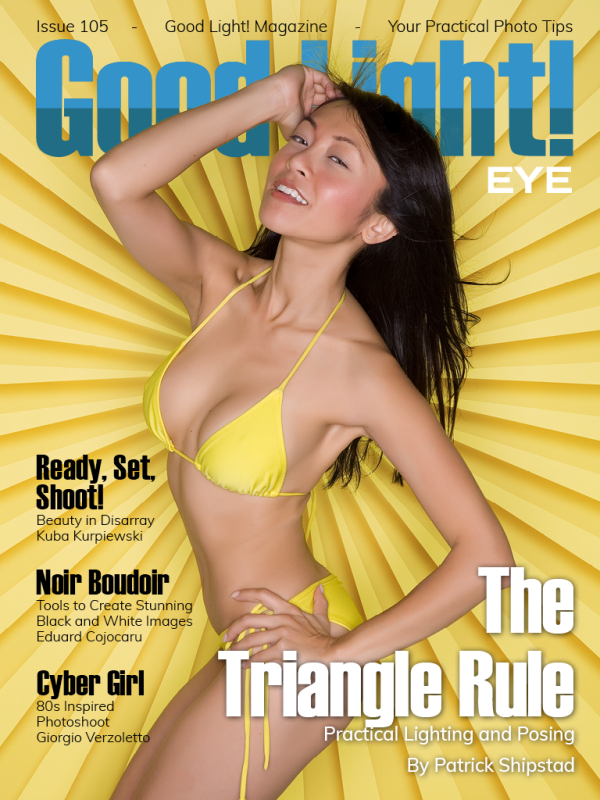 Purchase Options
Available for: iOS/Android App + Web Reader
In This Issue
The Triangle Rule

Once again Patrick Shipstads shares stunning photos as he gives us a tried and tested method for posing. Among the many rules of art and composition, the triangle rule is a way of positioning your subjects and background that would draw attention where you want it. Explore this way of posing to create flattering lines and curves for your model.

Cyber Girl

Giorgio Verzoletto's Cybergirl is a reinvention of the cyber girl idea that was famous back in the 80s. With a simple setup, and wardrobe that you could find in almost anyone's closet, what could be more practical than looking back in time to recreate what was fun and fabulous in punk history?

Ready, Set, Shoot!

While we are all chasing perfection and finding the perfect location for a shoot, Kuba Kurpiewski shines a light on the idea of just shooting with full freedom without needing to find the perfect spaces. Some of the locations he shot at are not your ordinary shooting spaces but your ordinary living spaces.

Noir Boudoir

Inspired by Elliot Erwitt's 'Regarding Woman' as well as Helmut Newton, Eduard Cojocaru explores black and white photography by using an added plug-in to your software. While we all use almost the same software for post-processing, Eduard shares what we should use with Adobe Photoshop to turn our monochrome photography into our A-game.
Purchase Options
Available for: iOS/Android App + Web Reader
About Good Light Magazine
Inspiring Images
Reliable Lighting Setups
Charming Poses
Pro Tips and Techniques
Practical Downloads
Category: Arts & Photography, Education, Lifestyle
Publisher: Good Light Magazine
Published: Monthly
Language: English
Compatibility: iOS/Android App + Web Reader
Peek Inside
Tap images to enlarge...
Past Issues
Tap below for more from Good Light Magazine