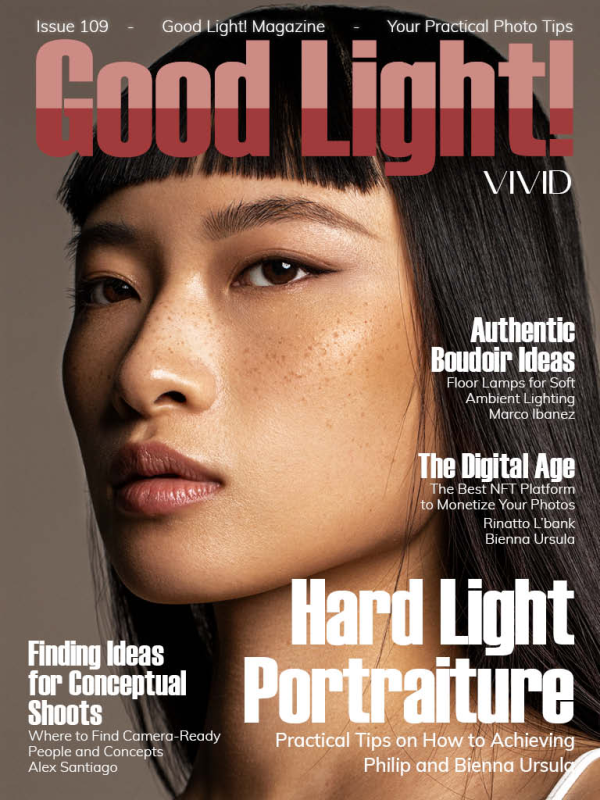 Purchase Options
Available for: iOS/Android App + Web Reader
In This Issue
Hard Light Portraiture

Learn the distinction between hard light and soft light as Philippe of Graphe Studios details practical tips on how to achieve hard light. This article gives us examples of hard light in studio settings and hard light in nature.

Authentic Boudoir Ideas

Marco Ibanez demonstrates the most unexpected practical lighting tips for soft light in the comfort of his home studio. Discover what everyday appliances and lighting effects you can use that are already available in your house to achieve soft light.

Finding Ideas for Conceptual Shoots

Are you having difficulty deciding what concepts to shoot for? Alex Santiago teaches us some of the most practical places to find ideas and people to photograph. Whether you are an amateur or a professional photographer, his tip for finding inspiration will be applicable wherever you are.

The Digital Age

Are you curious about the legitimacy of NFTs and how to start entering the platform? Rinatto L'bank gives us tips on the safest and most legit platforms on how to start entering your photos in the cryptocurrency platform called NFTs.

Cover

Model: Karin Kwong, Photographer: Philip.
Purchase Options
Available for: iOS/Android App + Web Reader
About Good Light Magazine
Inspiring Images
Reliable Lighting Setups
Charming Poses
Pro Tips and Techniques
Practical Downloads
Category: Arts & Photography, Education, Lifestyle
Publisher: Good Light Magazine
Published: Monthly
Language: English
Compatibility: iOS/Android App + Web Reader
Peek Inside
Tap images to enlarge...
Past Issues
Tap below for more from Good Light Magazine