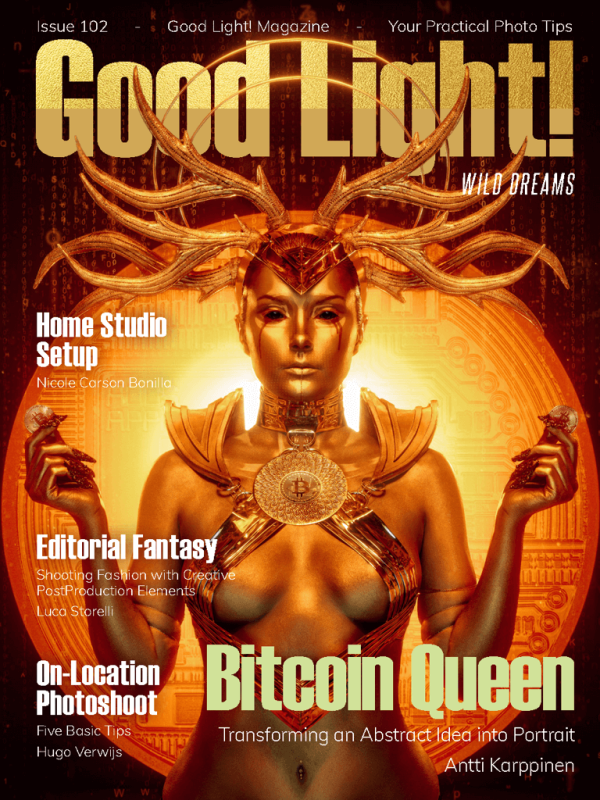 Purchase Options
Available for: iOS/Android App + Web Reader
In This Issue
Transforming an Abstract Idea into Portrait
Home Studio Setup for Family Portraits
Shooting Fashion with Creative PostProduction Elements
Five Basic Tips for On-Location Photoshoot

Bitcoin Queen

Digital currency incentivizes photographers to monetize their art. In Antti Karpinnen's creative quest, he uses three-point lighting to achieve a golden glow to his Bitcoin portrait character. His sci-fi-inspired photoshoot reminds us that we can make our ideas stand out by paying attention to the current state of the world.

Home Studio Setup

Photography aims to immortalize memories. A photoshoot from Nicole Carson Bonilla with the Harrison family means a lifetime to her. She brings a holistic approach to photography from styling, authentic posing, and even her inner child to convey the timelessness of a family portrait. In her home studio, Nicole employs a three-light setup using speedlites and a handpainted background for a classic painterly vibe.

Editorial Fantasy

Realistic photo manipulation begs for light consistency, a matching wardrobe, and even a good set design. Luca Storelli recycles existing fashion photographs using flowers, water, and smoke elements in Photoshop. He also captured each image using off-camera flash techniques and tips for editorial fantasy concepts whether the photo shoot is done in a studio or on-location.

On-Location Photoshoot

The basics of an on-location photoshoot never get old. Every situation including the time of the day presents unique challenges for every photographer and the team involved. Hugo Verwijs gives tips on the basics of gear and posing as he points out vital details that are easily overlooked such as the proper way to scout for location, permissions, and backup plans.

Cover

Model & Wardrobe Stylist: Mona Isa, Photographer: Antti Karpinnen.
Purchase Options
Available for: iOS/Android App + Web Reader
About Good Light Magazine
Inspiring Images
Reliable Lighting Setups
Charming Poses
Pro Tips and Techniques
Practical Downloads
Category: Arts & Photography, Education, Lifestyle
Publisher: Good Light Magazine
Published: Monthly
Language: English
Compatibility: iOS/Android App + Web Reader
Peek Inside
Tap images to enlarge...
Past Issues
Tap below for more from Good Light Magazine