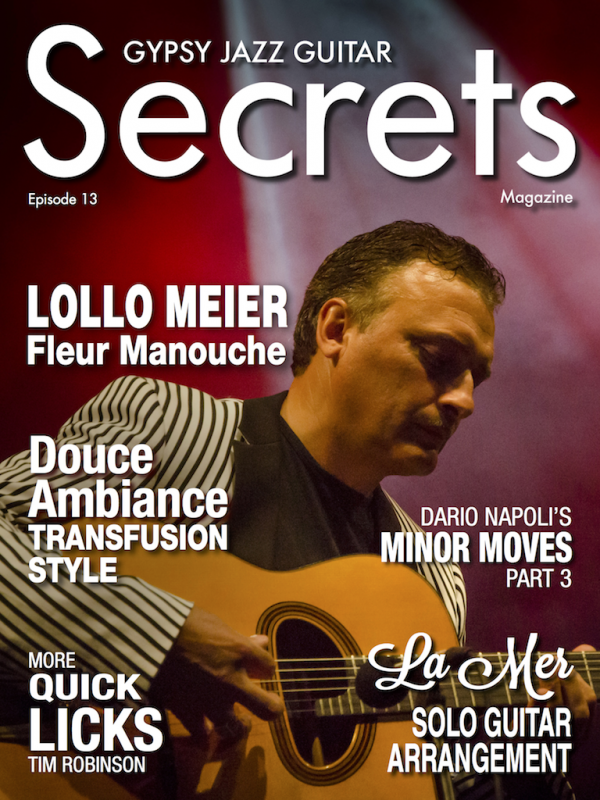 Purchase Options
Available for iOS / Android
In This Issue
Lollo Meier fleur manouche

I first met Lollo Meier at the Django Festival in Samois-Sur-Seine back in 1995 when we were sharing the same camping site. We jammed a lot and it was a thrill for me to get the opportunity to play with such an authentic and stella guplayer. A beautiful and enriching experience I'll never forget. It was a pleasure to have him visit the Secrets Studio at my home in Amsterdam and it was a joy to catch up, chat and play

Lollo Meier The interview

Lollo Meier answers Robin's questions

A lesson with Lollo Belleville Chords & Rhythm

In this lesson Lollo shows us some simple yet cool ways to play the chords through Django's 'Belleville'. He also shows us how to swing the rhythm which he says is usually the place where people go wrong when playing this style.

MINOR MOVES PART 3 by Dario Napoli

If you've ever hit a minor chord and not known what to play then Dario Napoli and his this mini series will give you plenty of cool and exciting ideas to use.

Tim's Quick Licks' by Tim Robinson

Another gem from Tim's Quick Licks' series. Each month he is teaching you a new lick, which will help you on your way to sounding like a gypsy jazz pro.

GYPSY MUSIC FROM LA. TRIO DINICU by Patrus

Hailed as "dazzling" by the San Francisco Chronicle, Trio Dinicu combines the forces of three world class musicians - a lightning-fast violinist with touching expressivity, a virtuoso guitarist with gypsy authenticity and a legendary Parisian bassist with deep soul - who bridge the gaps of classical, jazz and folklore, expanding these genres as never before.

LA MER' A SOLO GUITAR ARRANGEMENT by lan Date

This month lan's come up with a tasty solo guitar arrangement of la Mer which you can check out in his performance video.

PERFORMANCE DEEP DIVE FAPY LAFERTIN 'SONGE D'AUTOMNE' by Barry Wahrhaftig

Songe D'Automne' was written by Archibald Joyce AKA 'The Waltz King' of the UK in 1908. We can learn a lot from seeing how the piece evolved and became part of the Gypsy Jazz repertoire. The piece was originally conceived as a waltz and was given a 4/4 swing treatment by Django.

DOUCE AMBIANCE TRANSFUSION STYLE by Robin Nolan

The lessons I've got for you here are my Ninja Move #2 and the Rhythm lesson for 'Douce Ambiance'.
Purchase Options
Available for iOS / Android
About Gypsy Jazz Guitar Secrets
Explore The World Of Gypsy Jazz With Live Performances, Cutting Edge Lessons, And Exclusive Music And Interviews.
Gypsy Jazz Secrets Magazine is a digital-only, multimedia magazine featuring gypsy jazz articles and interviews with guitarists from around the world, as well as guitar lessons and performances.
Category: Education, Lifestyle, Music, Entertainment
Publisher: Gypsy Jazz Guitar Secrets
Published: Monthly
Language: English
Compatibility: iOS / Android
Peek Inside
Tap images to enlarge...
Past Issues
Tap below for more from Gypsy Jazz Guitar Secrets