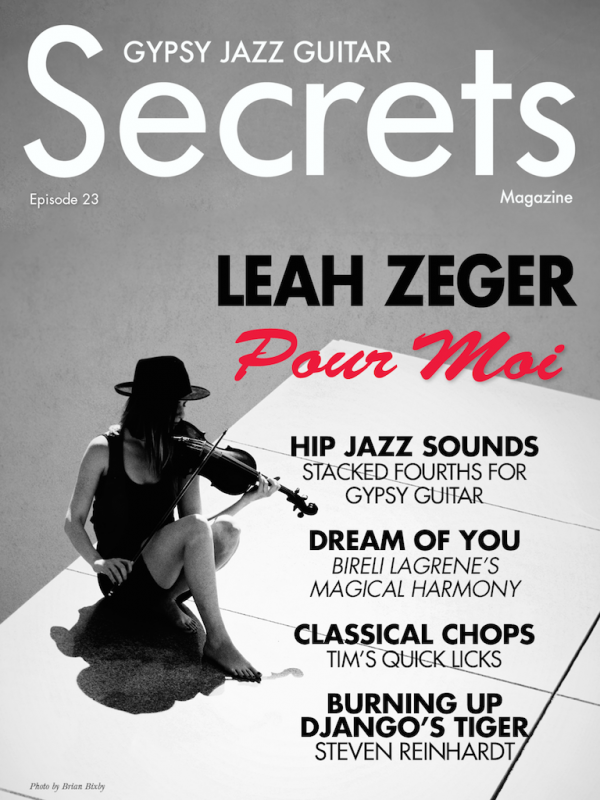 Purchase Options
Available for iOS / Android
In This Issue
The Magic Of Leah Zeger

"Leah Zeger and her band just brought the house down here at Djangofest Northwest and left the crowd wanting more. She dazzled them with her virtuosic fiddle playing, romanced them with her sultry voice and had them eating out of her hand with her natural charm, charisma and sexy exotic looks. I had a chance to sit down with Leah after the show and was intrigued about her musical story."

Dario's Dominant Licks Part 4 - Video Lesson

Here's a ready-to-go hip and bite size dominant lick to get under your fingers.

Stacked 4th's For Gypsy Guitar - Video Lesson

McCoy Tyner was a jazz pianist who played with greats like John Coltrane and Miles Davis and was known for his innovative approach to chords and harmony. There are some cool conceptual ideas that we can borrow from his playing and adapt to the gypsy guitar.

Steven Reinhardt - Django's Tiger

This is a high-octane performance of 'Django's Tiger' by young gypsy guitarist Steven Reinhardt.

Quasi Classical - Tim's Quick Licks - Video Lesson

This Minor V-i type lick has a kind of quasi classical quality to it.

Irene's Gypsy Jazz Adventures

About what struck me, touched me, made me laugh or left me in awe while dancing around with my guitar, my camera and my drawing pad in the international world of gypsy jazz.

Dream Of You - Bireli Lagrene's Magical Harmony - Video Lesson

We're going to learn the sweetest harmony ever to 'Dream Of You' in this lesson.
Purchase Options
Available for iOS / Android
About Gypsy Jazz Guitar Secrets
Explore The World Of Gypsy Jazz With Live Performances, Cutting Edge Lessons, And Exclusive Music And Interviews.
Gypsy Jazz Secrets Magazine is a digital-only, multimedia magazine featuring gypsy jazz articles and interviews with guitarists from around the world, as well as guitar lessons and performances.
Category: Education, Lifestyle, Music, Entertainment
Publisher: Gypsy Jazz Guitar Secrets
Published: Monthly
Language: English
Compatibility: iOS / Android
Past Issues
Tap below for more from Gypsy Jazz Guitar Secrets Magazine