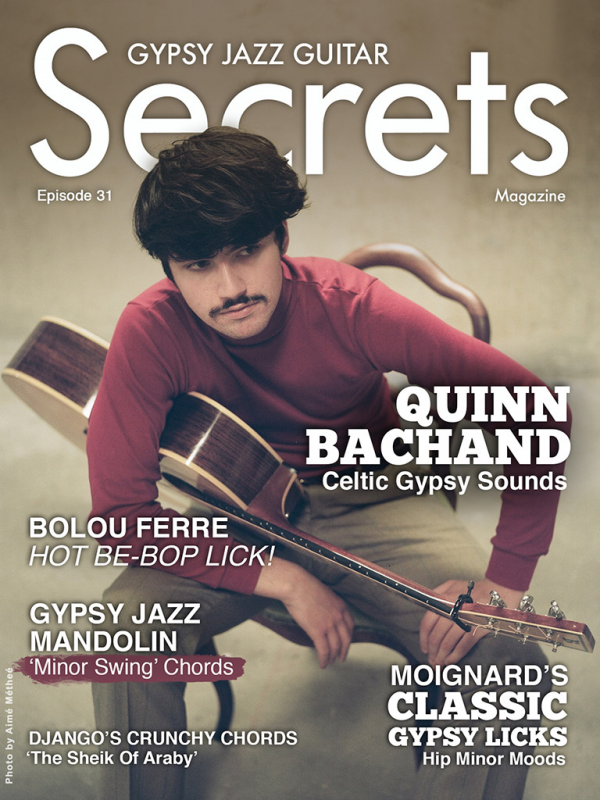 Purchase Options
Available for: iOS/Android App + Web Reader
In This Issue
Quinn Bachand - The Interview and Performance

I first met Quinn in his home town of Victoria B.C. Canada when I was playing a concert there with local fiddle godfather Daniel Lapp back in 2008. Quinn played a few tunes with us on guitar at the end of the show and blew me away. He was only in his early teens at that time but had a great sound on the guitar plus an awesome technique and musicality that has only grown and developed to this day.

Quinn Bachand - Three Quinn Licks

"In these exclusive video lessons, Quinn Bachand shares 3 of his favorite licks which will help you with your gypsy jazz soloing."

Adrien Moignard Minor Licks

In this cool series of video lessons, gypsy jazz guitar guru Adrien Moignard shares some of his favorite licks which he uses to stand out above all other players on the scene today!

Boulu Ferre Be-Bop Lick

Welcome to the sixth in my series of lessons for Gypsy Jazz Secrets looking at some quick and easy ideas you can add to make your playing sound more authentic in this style.

Stephane Wrembel and Serge Krief

A meeting of two Gypsy Jazz Giants! The great Stephane Wrembel & the legendary Serge Krief have fun on 'Djangology'.

Sheik Of Araby Django's Genius

In this lesson you'll get some of Django Reinhardt's crunchy chords under your fingers to make 'The Sheik Of Araby' really swing!

Magnus Mandolin

"Welcome to the 2nd in a brand new 3-part series where you'll be learning how to play the classic gypsy jazz jam tune 'Minor Swing' on Mandolin!"
Purchase Options
Available for: iOS/Android App + Web Reader
About Gypsy Jazz Guitar Secrets
Explore The World Of Gypsy Jazz With Live Performances, Cutting Edge Lessons, And Exclusive Music And Interviews.
Gypsy Jazz Secrets Magazine is a digital-only, multimedia magazine featuring gypsy jazz articles and interviews with guitarists from around the world, as well as guitar lessons and performances.
Category: Education, Lifestyle, Music, Entertainment
Publisher: Gypsy Jazz Guitar Secrets
Published: Monthly
Language: English
Compatibility: iOS/Android App + Web Reader
Past Issues
Tap below for more from Gypsy Jazz Guitar Secrets