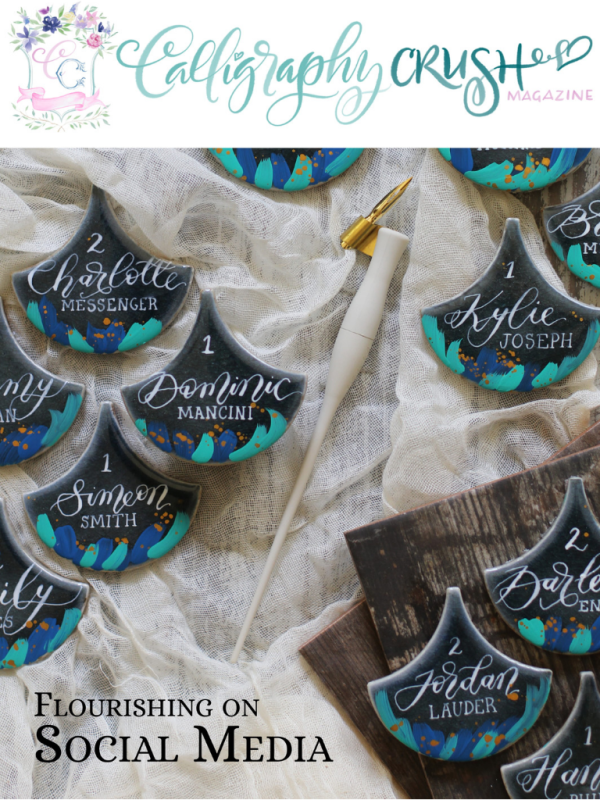 In This Issue
Interview with Dionne Christiansen

Creative, inventive, and hardworking only begin to describe the talent of calligrapher and design artist Dionne Christiansen. Our Cover Artist shares how she started as a graphic designer and developed her thriving calligraphy business.

Flourishing on Social Media

Meet eight entrepreneurial artists who have utilized social media to engage and inspire their followers, build community, and grow their businesses.

Creating a Crushing It Instagram Account

Whether you use Instagram to share your work, build a following, or land clients, there are key guidelines to consider for creating and maintaining a successful account and strong following.

Instagram Styling Secrets

Learn how Aileen Fretz has gathered over 50,000 followers by creating a stunningly beautiful and engaging feed.

Instagram Etiquette

Brenna Jordan - Candid, ongoing communication about issues of proper etiquette will help ensure Instagram remains a place where lettering artists can continue to thrive and learn.

Game of Comparison

Kiley Bennett - Even if you're the MOST secure, confident person in the world, I bet an inkling of comparison gets into your head every now and then....How do we keep perspective on other artists' successes and not get discouraged?

Best Practices for Creating Amazing Instagram Stories

Let's be real – we want to see you in your face mask on a Friday night sipping red wine more than we want to see your perfectly posed and retouched head shot. It's human nature to seek connection and, right now, we're finding it in Instagram stories.

Is It Performance Art?

At holiday times or other special occasions, stores and luxury brands offer handwritten messages for customers, enticing them to make a purchase so the customers can personalize their gifts. Here is a behind-the-scenes look at calligraphers who offer these events.

A Flourished Ukulele

The minute Kathy Milici got the call, she knew that this would be a crazy fun project! Could she decorate a ukulele? Of course! After she said yes, panic set in. How was she going to pull this off?

Chalk Lettering

Since chalkboards themselves are relics of a sort, Jody Meese draws heavily from vintage packaging, advertising, signs and maps for her chalk lettering designs.

Paperwhite Studio Tour

It's been a long journey from the kitchen table to the space Erica McPhee has now for her studio. Join her for a peek inside as she gives a video tour of her delightful home studio.

How Much Should I Practice?

Kathy Milici - Naturally, one would think that the answer would be "as much as possible," but there are a few things that I would like to address to help you along your way.

Am I Ready to Teach?

Melissa Esplin - Teaching isn't for everyone, and that's okay! But maybe it is for you. Are you ready to teach? Let's work through these questions below and find out.

Copyright & Intellectual Property

Calligraphers are often asked to write out poems and lyrics to put the extra touch on someone's special day. But before you put your pens to paper, it is important to understand the intellectual property issues that may arise within the world of calligraphy.

Baby Certificate

Behind the Scenes - Follow along as Suzanne Cunningham details the steps to create a beautiful cross-shaped baby certificate in Copperplate calligraphy.

Baby Announcement

Behind the Scenes - As a custom stationer, Rachel Tieken always struggled to find time to work on personal projects amongst client commissions. But with the birth of her third son fast approaching, she was determined to make him a special birth announcement.

Refined Design Retreat

What Aha! Moments did the calligraphers have at Paper & Ink Arts' first Refined Design Retreat?

Pointed Pen Mandalas

Tutorial - Follow along as Traci Thompson leads step-by-step through creating an intricately-flourished medallion.

Foundational Variation Alphabet

Tutorial - Laurie Pearson teaches a variation of the popular 'Foundational' style.

Watercolor Crest "How To"

Tutorial - Erica McPhee shares how she designed the watercolor crest for Calligraphy Crush.

Interview and Tutorial on iPad Lettering

Tutorial - Liz Kohler Brown shows how to add any texture to your calligraphy on your iPad

Calligraphic Drawing

In the hands of Schin Loong, calligraphy tools don't stop at lettering. See some of her fantastical animal drawings from her new book.

Styled Shoots

Discover the pros and cons of participating in styled photo shoots.

Reader's Gallery

Browse artwork by by Carla Hagan, Brenda Griffin Smith, Emiy Mayne, Grace Edmands, Evelyn Wong, Marisa Jackson, Emily Reichlin, Janet Furr, Kristen Carpenter, Lorise Barratta, Marjorie Politi, & Sylvia Schiada.

Pen Makers

The tools of calligraphy can be inspirational all by themselves. Pen maker Ashley Bush answers questions about her popular pen creations.

For Your Amusement - Milici Recipe

Kathy Milici shares and old Italian family recipe for meatballs and sauce.

Contributors

Read short biographies about our contributors.
About Calligraphy Crush
Calligraphy Crush is dedicated to the artistry of modern calligraphy, historical letterforms, hand lettering, watercolor illustration, stationery, and all things enhanced with beautiful writing.
Available for viewing on tablets and smart phones only. The desktop version will be available soon.
Annual subscription includes 4 issues.

Each issue (100+ pages) features:
Tutorials
Calligraphy FAQs
Behind-the-scenes peaks at calligraphers' businesses and design processes
Product reviews
Design inspiration
Category: Arts & Photography, Business & Entrepreneurship, Crafts & Hobbies, Education
Publisher: Calligraphy Crush
Published: Quarterly
Language: English
Compatibility: iOS / Android
Peek Inside
Tap images to enlarge...
About The Publisher
Calligraphy Crush Magazine's mission is to inspire, educate, and entertain calligraphers and hand lettering artists who create beautiful lettering as a... read more

Past Issues
Tap below for more from Calligraphy Crush Magazine