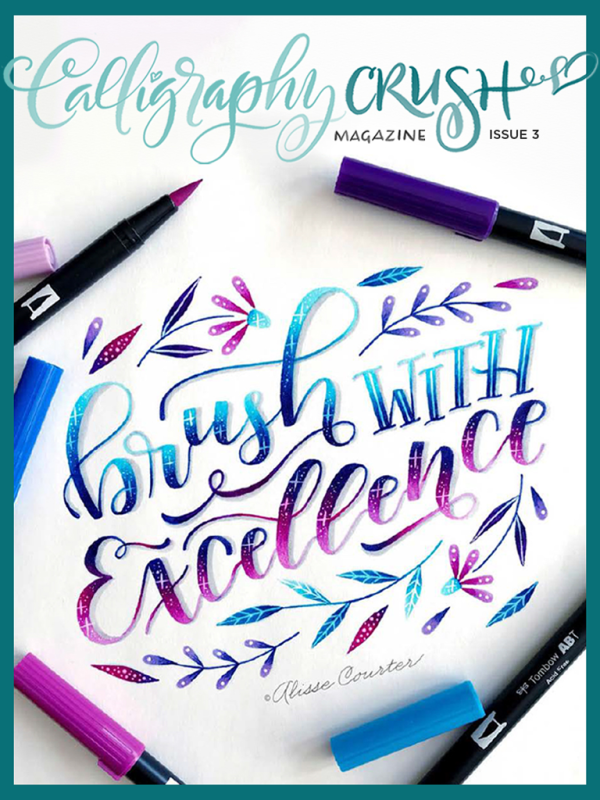 In This Issue
Interview with Cover Artist Alisse Courter

Alisse Courter's brush marker creations are guaranteed to stop you in your "swipe-up" tracks on Instagram. Find out how she developed her unique style.

Act of Kindness: Thank You Cards

Make people happy and practice your brush lettering at the same time. Say "Thank you" to waitstaff and others who help you throughout your day.

Bold and Fearless Art

Learning the basics in any artform is the first step. Making it your style takes stepping out. Read about making your art yours.

Evolving Styles

Want to develop your own calligraphy style? Try posting a different calligraphy style every day on Instagram for 365 days! That's what Selena Ashley, a graphic designer and calligrapher from Michigan, did back in 2015 when she became serious about studying calligraphy.

Blending with Brush Markers

Tutorial: Enhance your brush lettering with blending techniques.

Floral Alphabet

Tutorial: Design a complete floral alphabet in script style.

Chinese "Fai Chun" Card

Tutorial: Create a "Fai Chung" card - a decoration for Chinese New Year.

Brush Pen Comparison

Product Review: Sixteen popular brush pens face off in an elimination tournament to determine which one is the best pen overall.

The Fabulous Flowers of Fritzi Harry

Product Review: Fritzi's book shows quick florals using brush markers

Aquino Ruler

Product Review: Aquino da Silva, owner of AB Calligraphy Supply in Macau, China has designed a new tool for quickly drawing Spencerian and Engrosser Script guidelines.

The Evolution of Crayligraphy

Behind the Scenes: Colin Tierney introduces Crayligraphy, the perfect way for beginners to start and then transition into other worlds of letterforms.

Craytiques

Crayligraphy Educraytors critique student work.

Ask a Lettering Expert

Got a calligraphy or lettering-related question you've always been curious about? We take your burning questions and serve up a hot dish of the answers you've been searching for.

The Truth About Choosing the Best Paper for Brush Lettering

The type of paper you use determines how long your brush pens will last. Find out which papers will let your markers last longer.

Brush Lettering Tips for Left-Handers

Brush lettering is not harder for left-handers, just different. Adjust what you've learned to fit your writing style.

Best Brush Beginner Tips

Make the most of your brush lettering practice time.

Instagram Challenges

Need some inspiration to practice your calligraphy or hand lettering? Instagram challenges can help!

InkMeThis Pens

For dip pen and ink, the pen itself can make all the difference. Read how one calligrapher started making her own.

IAMPETH Aha! Moments

Some moments of learning can change your entire outlook. Here are some lightbulb ideas from established calligraphers who attended the 2019 IAMPETH conference.

Gallery

Works of art by Melinda Lerwill, John Stevens, Alyssa Lord, Andre Cataluna, Norman Bauzon, and Cindy Haller.

Contributors

A little history of the talented artists who contributed to this issue.
About Calligraphy Crush
Calligraphy Crush is dedicated to the artistry of modern calligraphy, historical letterforms, hand lettering, watercolor illustration, stationery, and all things enhanced with beautiful writing.
Available for viewing on tablets and smart phones. Annual subscription includes 4 issues.

Each issue (100+ pages) features:
Tutorials
Calligraphy FAQs
Behind-the-scenes peaks at calligraphers' businesses and design processes
Product reviews
Design inspiration
Category: Arts & Photography, Business & Entrepreneurship, Crafts & Hobbies, Education
Publisher: Calligraphy Crush
Published: Quarterly
Language: English
Compatibility: iOS / Android
Peek Inside
Tap images to enlarge...
About The Publisher
Calligraphy Crush Magazine's mission is to inspire, educate, and entertain calligraphers and hand lettering artists who create beautiful lettering as a... read more

Past Issues
Tap below for more from Calligraphy Crush Magazine