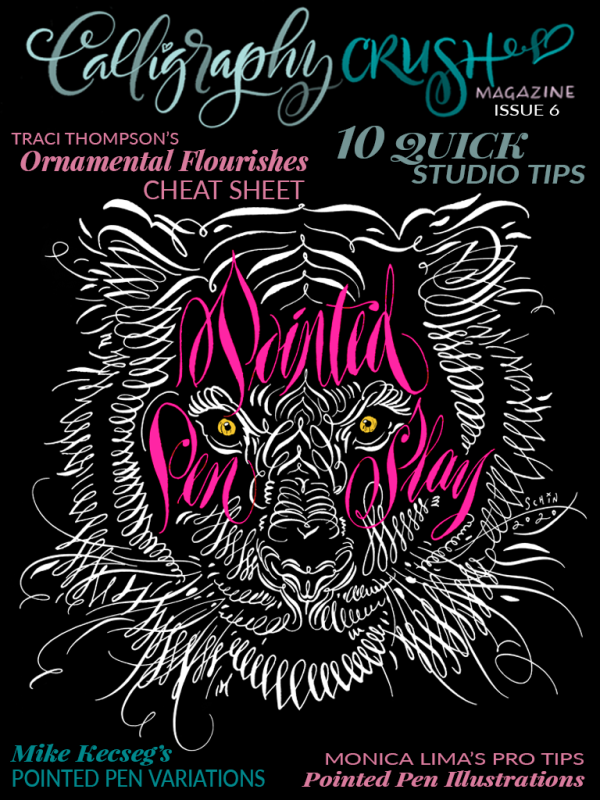 In This Issue
Interview - Cover Artist Schin Loong

The bold, confident lettering and flourishes of Schin Loong are unmistakable among the talented pointed pen artists wow-ing us on social media and YouTube.

Interview - The Pointed Pen Variations of Mike Kecseg

Ever thought of combining elements of broad pen and pointed pen styles to create new calligraphy hands? The Pointed Pen Variations of IAMPETH Master Penman Mike Kecseg blend the characteristics of styles such as Italic and Copperplate into ingenious contemporary styles.

Tutorial - Illustrating with the Pointed Pen - Monica Lima

If you have written with a flexible nib, and can render thick shades tapering to whisper-thin hairlines, then you have all you need to draw amazing illustrations with the pointed pen.

Tutorial - Ornamental Flourishing Cheat Sheet - Traci Thompson

Ornamental flourishing can embellish your calligraphy in so many ways. Many people think that flourishing is hard… I used to as well.

Tutorial - Needle Stitch Script - Joe Vitolo

The Needle Stitch Script technique can add flair to your writing without requiring hours of practice.

Tutorial - Vertical Ornamental Penmanship

Try your hand at an alphabet inspired by Charles P. Zaner.

Refining Your Design - Rules vs. Breaking Rules: The Endless Debate - Jean Wilson

Some people actually love rules and are better off choosing the rules they like and sticking with them. For others, they thrive on experimentation and breaking rules.

Refining Your Design - Improving an Italic Layout - Cindy Haller

Broad pen hands are not my forté since I use pointed pen for the majority of my work. I asked my friend Cindy Haller, who is a skilled calligrapher and instructor, if she would critique my piece.

Pen Maker: SEC Calligraphy

SEC Calligraphy is a manufacturer of wood pens based in Italy. I asked Stefano Costantini to share with us about his pen manufacturing business.

Product Review: Ink Stirrer

Metallic inks are exciting to use for our calligraphy pieces, but can be fiddly to work with due to the mica separating and sinking to the bottom of the ink holder. If you work with metallics frequently, consider purchasing a magnetic ink stirrer to make your life easier.

Tips & Tricks - 10 Quick Studio Tips

Tips on tool storage, nib cleaning, and more!

Biz Interview: Interview with Meredith Allison

A chance encounter with a med student at a café was the start of Meredith Allison Bonner's calligraphy career.

Behind the Scenes: Melissa Esplin - Design & Print a Card with Foiling

The card came out as a result of a happy accident. On occasion, I'll just paint little loose watercolor bouquets. Sometimes I love them, sometimes I toss them in the trash. This was one of those moments where everything came together really nicely.

Behind the Scenes - Festive Fiesta Shower Invitation - Debbie Dutton

The couples' bridal shower was going to be a piñata-popping, taco bar, margarita, and maracas celebration. Replicating colorful Mexican doilies as part of the invitation design immediately came to mind.

Gallery: Traci Thompson

Pointed pen play of Traci Thompson
About Calligraphy Crush
Calligraphy Crush is dedicated to the artistry of modern calligraphy, historical letterforms, hand lettering, watercolor illustration, stationery, and all things enhanced with beautiful writing.
Available for viewing on tablets and smart phones only. The desktop version will be available soon.
Annual subscription includes 4 issues.

Each issue (100+ pages) features:
Tutorials
Calligraphy FAQs
Behind-the-scenes peaks at calligraphers' businesses and design processes
Product reviews
Design inspiration
Category: Arts & Photography, Business & Entrepreneurship, Crafts & Hobbies, Education
Publisher: Calligraphy Crush
Published: Quarterly
Language: English
Compatibility: iOS / Android
Peek Inside
Tap images to enlarge...
About The Publisher
Calligraphy Crush Magazine's mission is to inspire, educate, and entertain calligraphers and hand lettering artists who create beautiful lettering as a... read more

Past Issues
Tap below for more from Calligraphy Crush Magazine