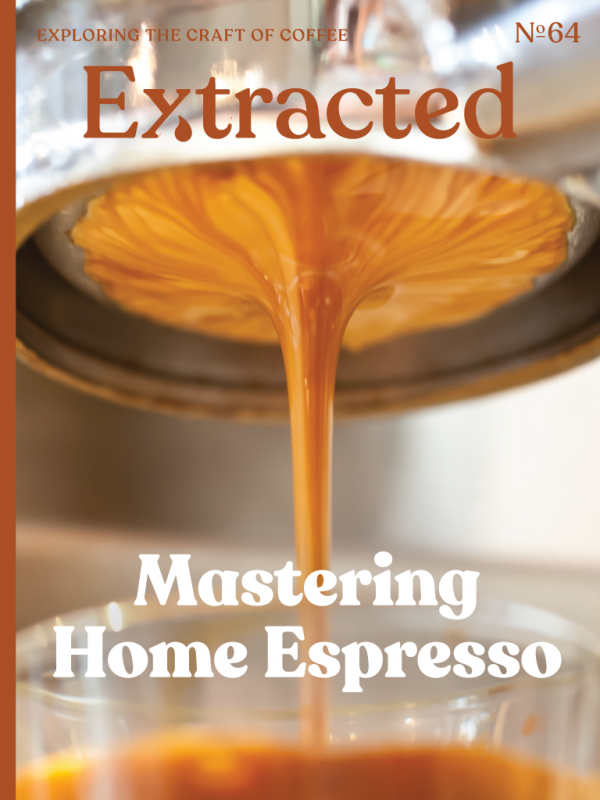 Purchase Options
Available for: iOS/Android App + Web Reader
In This Issue
Mastering Home Espresso

In this issue we dive into the world of making your own Espresso. Taking a high level approach, I bring you through the steps to make your own cafe quality espresso at home and what equipment to use. Then I go over alternative espresso equipment to make it well without an extensive budget.

Videos: Breville Barista Touch, Nomad Espresso Machine, Aeropress for Espresso

In this issue exploring espresso, we include several videos showing you a wide range of tools and techniques for creating espresso at home.

The Soul, The Sword, and the Guest - Part 4

Part 4 of Coffee With the Bedouins in Little Petra, by Steven P. Unger.

Reader's Questions: What is Crema?

Following this exploration of espresso, we answer one of the most asked questions about coffee - what the heck is crema anyway?

Video: Apex Coffee

A review of an Ethiopia Kore Kochere by Apex Coffee Roasters.

Coffee Lovers Radio + Letter: Vote With Your Dollar

In this Coffee podcast episode we talk about the influence your dollar has, whether you realize it or not.

Filter Stories: Berries and Lemon

A new podcast by James Harper. In this one he tells the story of a Kenyan Barista.

Special Letter from the Editor

In this letter from the Editor we hear about his thoughts on the true magic of great coffee.
Purchase Options
Available for: iOS/Android App + Web Reader
About Extracted
Extracted Magazine educates and empowers coffee drinkers everywhere through craft specialty coffee.
Though coffee is consumed worldwide, many are unaware of its capability or significance. Extracted empowers you to find the richness of flavor, history, and relationships of the coffee in your cup.
Category: Food & Drink, Lifestyle, Entertainment
Publisher: Extracted
Published: Monthly
Language: English
Compatibility: iOS/Android App + Web Reader
Peek Inside
Tap images to enlarge...
About The Publisher
My name is Joseph Robertson. I kind of accidentally fell into coffee. It was social convention that got me into it... You go on a date and you have a coffee.... read more

Past Issues
Tap below for more from Extracted Magazine