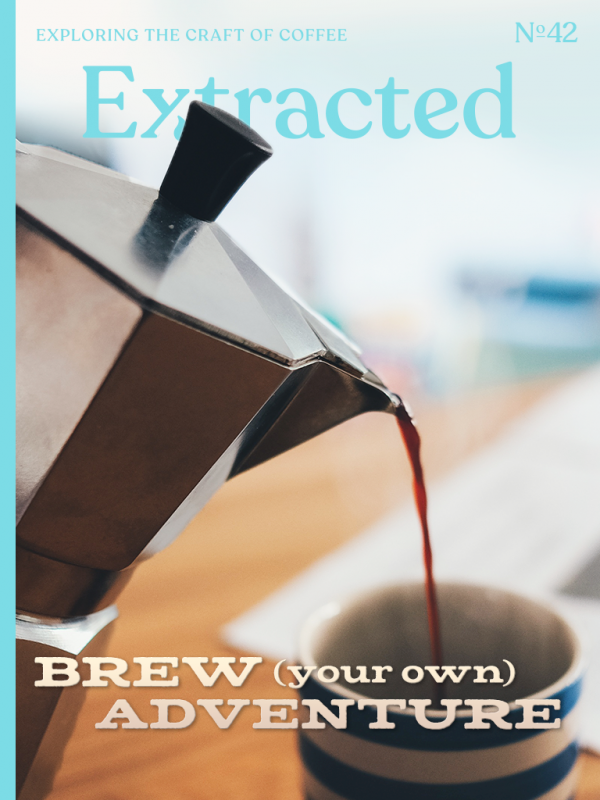 Purchase Options
Available for: iOS/Android App + Web Reader
In This Issue
Brew Your Own Adventure - an interactive story

The art of crafting a cup of coffee - it's something in which we all partake. There are so many different ways to enjoy coffee though, that it can be a challenge to figure out which method is best for yourself. Discover your own perfect brewing method with our Brew Your Own Adventure interactive story. Chose your path and discover the best coffee for you. But, take care in your choices...there's just one catch... But you'll have to brew your own adventure to find out!

Stretch Back in Nostalgia with the Percolator

The percolator is one of the most popular mass produced mass coffee consumption brewers of the last century. It's largely fallen out of style to superior brewing tools. But lets have a look at that old coffee brewer one more time …

How To: Cold Brew

Cold brew is one of the most popular coffee drinks of the summer, not just because it's delicious and cold, but it presents an entirely new coffee experience to most. Learn how to make your own.

A Cup of Joe - One Simple Thing to Improve Your Coffee

In this exclusive to the magazine Cup of Joe, we go over one simple process you can apply to your pour over brewing to introduce a bit more consistency and improve every cup.

My Coffee Crush - Essential Chemex

In this Coffee Crush, Francis shares with us his passion for The Chemex

Best Iced Coffee on Coffee Lovers Radio

Following up on the previous episode, we sat down and brewed through three different iced coffee methods. Iced coffee with the Hario Fretta Iced coffee with the Chemex Iced coffee with the Aeropress We go through how to brew the best iced coffee with each of these methods, and talk about the differences you can expect to experience.

Special Letter from the Editor

A brewing adventure, brewing tools, thoughts on a book, and a coffee quiz!
Purchase Options
Available for: iOS/Android App + Web Reader
About Extracted
Extracted Magazine educates and empowers coffee drinkers everywhere through craft specialty coffee.
Though coffee is consumed worldwide, many are unaware of its capability or significance. Extracted empowers you to find the richness of flavor, history, and relationships of the coffee in your cup.
Category: Food & Drink, Lifestyle, Entertainment
Publisher: Extracted
Published: Monthly
Language: English
Compatibility: iOS/Android App + Web Reader
Peek Inside
Tap images to enlarge...
About The Publisher
My name is Joseph Robertson. I kind of accidentally fell into coffee. It was social convention that got me into it... You go on a date and you have a coffee.... read more

Past Issues
Tap below for more from Extracted Magazine