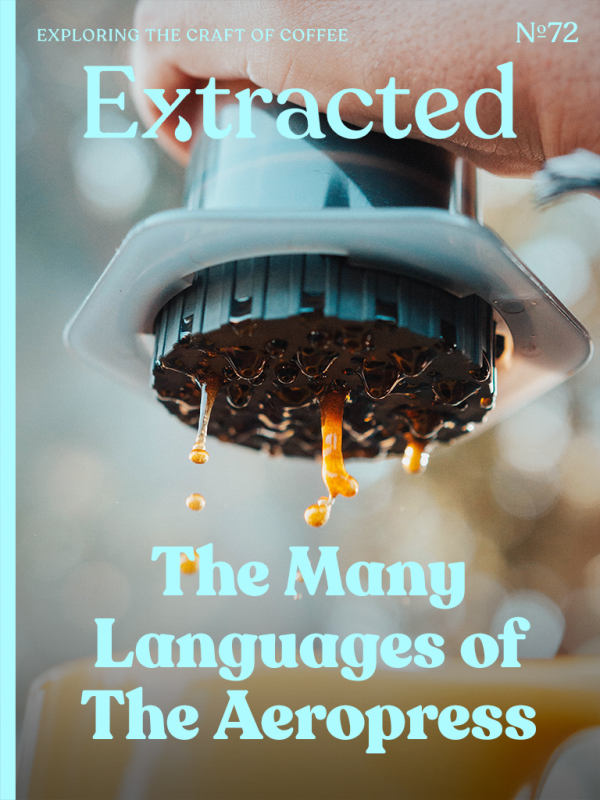 Purchase Options
Available for: iOS/Android App + Web Reader
In This Issue
The Aeropress and it's Many Languages

The Aeropress is one of the most unique and versatile brewing methods. But what makes the Aeropress so great is not the coffee it makes, but the kind of coffee drinker it makes you. Explore and master The Aeropress in this issue.

Videos: Aeropress Champions

In this special issue focusing on The Aeropress we also explore a number of different championship Aeropress brewing recipes

Paris Became One Vast Cafe - Chapter 4 Part 4

In this final installment exploring Paris Coffee culture, we look at St. Sulpice, The Rose Line, and The Cafes of St-Germain-Des-Pres

Video: Upgrade Your French Press

A simple technique for upgrading the taste result of your French Press

Coffee Lovers Radio: Intrigue Chocolates - a Tribute

Join us in our farewell show to Intrigue Chocolate's Ganache Truffles – one of our most favorite delights we've shared with y'all in the past.

Hot Spot for a Coffee Adventure: Miami Roasters

We take a trip to Miami to explore specialty coffee culture

Special Letter from the Editor - The Brewer Makes You

In this special letter from the editor we explore the impact your coffee brewing choices has on your perspectives, and visa versa.
Purchase Options
Available for: iOS/Android App + Web Reader
About Extracted
Extracted Magazine educates and empowers coffee drinkers everywhere through craft specialty coffee.
Though coffee is consumed worldwide, many are unaware of its capability or significance. Extracted empowers you to find the richness of flavor, history, and relationships of the coffee in your cup.
Category: Food & Drink, Lifestyle, Entertainment
Publisher: Extracted
Published: Monthly
Language: English
Compatibility: iOS/Android App + Web Reader
Peek Inside
Tap images to enlarge...
About The Publisher
My name is Joseph Robertson. I kind of accidentally fell into coffee. It was social convention that got me into it... You go on a date and you have a coffee.... read more

Past Issues
Tap below for more from Extracted Magazine