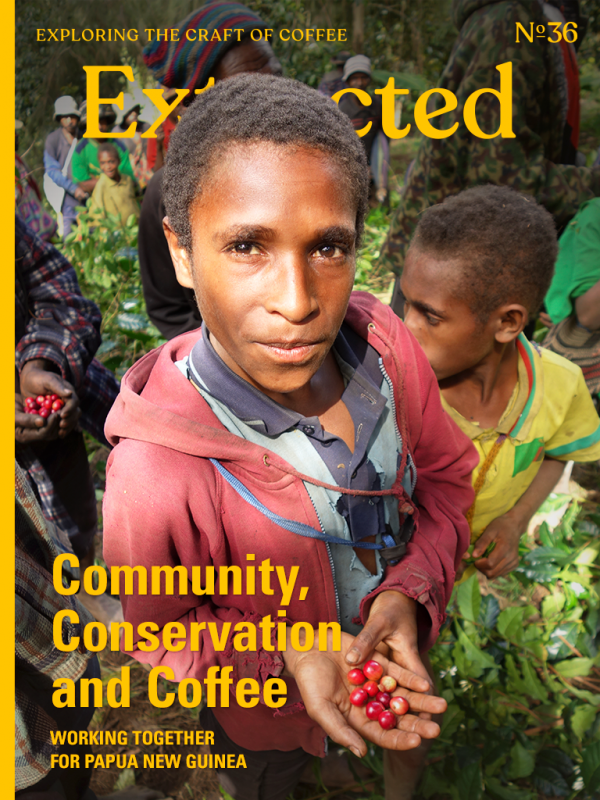 Purchase Options
Available for: iOS/Android App + Web Reader
In This Issue
Community, Conservation, and Coffee - with Woodland Park Zoo, the Tree Kangaroo Conservation Program, and Caffe Vita

This month features a story of two communities, on opposite sides of the world. It's a story that spans 20 years - beginning with the dedication of one person wishing to save the Matschie's tree kangaroo, and leading to a deep connection between an entire community of people around coffee. Featuring the Tree Kangaroo Conservation Program with Woodland Park Zoo, and Caffe Vita, we explore the developing of an entire coffee supply chain in support of the lifestyles of natives in the YUS region of Papua New Guinea. This story will show you the most powerful connections amongst ourself and others inherent in coffee.

Comic: Doodle For Food

Apparently they found the culprit who's been robbing coffee shops …

Video: Pumpkin Spice Rap

A rap video about Pumpkin Spice Lattes

Coffee of the Month

In this Coffee of the Month, I explore a selection of coffees from Revelator.

Interview with Caffe Vita

Following our story of conservation in Papa New Guinea, I interview two of the main people involved at Caffe Vita in Seattle.

How Direct is Direct Trade? Featuring Herkimer Coffee

Francis takes us on one final exploration of Direct Trade Coffee, featuring Seattle roaster Herkimer.

Reader's Questions - What has more caffeine, dark or light roast?

It is a common myth that light roast has more caffeine than dark roast. However, there is some truth rooted in this idea. We explore the real nature of caffeine as it relates to roast level in this issue.

This Month in Coffee

A selection of news and stories from around the world all about coffee.
Purchase Options
Available for: iOS/Android App + Web Reader
About Extracted
Extracted Magazine educates and empowers coffee drinkers everywhere through craft specialty coffee.
Though coffee is consumed worldwide, many are unaware of its capability or significance. Extracted empowers you to find the richness of flavor, history, and relationships of the coffee in your cup.
Category: Food & Drink, Lifestyle, Entertainment
Publisher: Extracted
Published: Monthly
Language: English
Compatibility: iOS/Android App + Web Reader
Peek Inside
Tap images to enlarge...
About The Publisher
My name is Joseph Robertson. I kind of accidentally fell into coffee. It was social convention that got me into it... You go on a date and you have a coffee.... read more

Past Issues
Tap below for more from Extracted Magazine