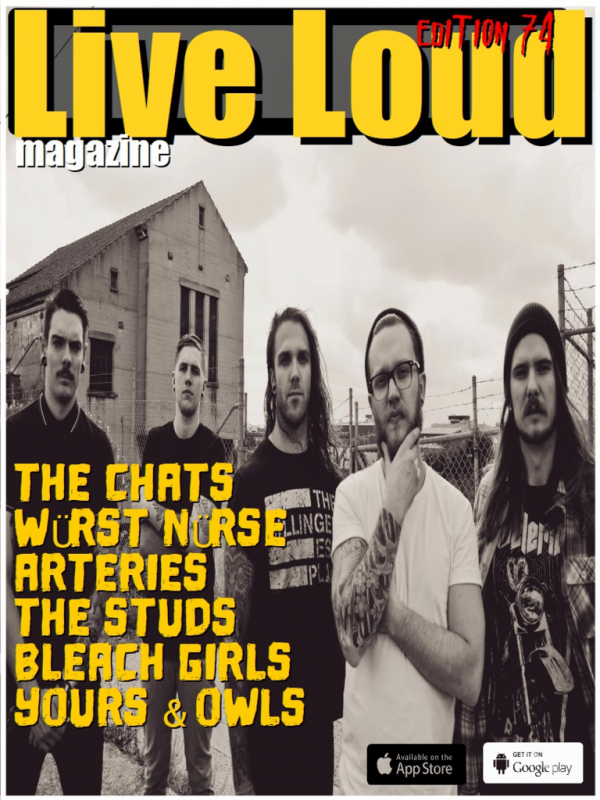 Purchase Options
Available for: iOS/Android App + Web Reader
In This Issue
WÜRST NÜRSE

Wurst Nurse is an exciting all-female punk band made up of real-life nurses. Anna Stein and Stephanie Butigan play mean guitars and Morgan Sterley plays the bass whilst Abbie Laderman pounds the drums with a wild abandon.

Bleach Girls

Meet the Bleach Girls, a two-piece beach punk rock band based in Byron Bay. Fi Fi and Mickey Bleach combine garage, pop, surf rock and garage rock in a unique but refreshing way. So there I was, nursing a cold beer at The Easter in Ballarat. I had come to the bar to catch The Meanies play. This heavily tattooed guy steps on stage with his guitar and a beach- blonde girl takes a seat at the drums.

The Chats

Watching the chats play their set at the Peregrian Beach Hotel one Friday afternoon I was struck by how much fun these guys with mullets were having on the stage. I have been checking out the bar scene in the Sunshine Coast.

Arteries

Arteries deliver ferocious, metallic sounds that are loud, yet melodic, punchy and anthemic. It's an honest and raw sound with hints of Meshuggah, Deftones, Converge, Dillinger Escape Plan and Oathbreaker.

The Studs

There is something special about the Chicago punk rock scene. It is loud, weird and crazy. With the booze around it does get out of hand sometimes. There are a lot of good punk bands in Illinois like 'The Giving Moon', 'This Obsession' and 'Ridgelands'.

Another Yours & Owls Festival set to be a scorcher

Another year, another killer Australian Festival. Your & Owls is here again. The two day festival promises to be bigger and better than the previous years. 50 artists are lined up to play across two stages at Stuart Park in Wollongong. For two days the usually sleepy Wollongong will be teeming with the loudest Aussie bands.
Purchase Options
Available for: iOS/Android App + Web Reader
About Live Loud
Live Loud Magazine is the original music magazine app for the punk & hard rock lovers.

Whether you're into skate punk or grunge, love live music & can't miss a gig then Live Loud is your mag!

Join your community now!
Category: Dance, Lifestyle, Music, Travel & Destinations, Entertainment
Publisher: Live Loud
Published: Monthly
Language: English
Compatibility: iOS/Android App + Web Reader
Peek Inside
Tap images to enlarge...
About The Publisher
Live Loud Magazine is more than a music mag: it's your guide to a rad way of life. Punk is: the personal expression of uniqueness that comes from the... read more

Past Issues
Tap below for more from Live Loud