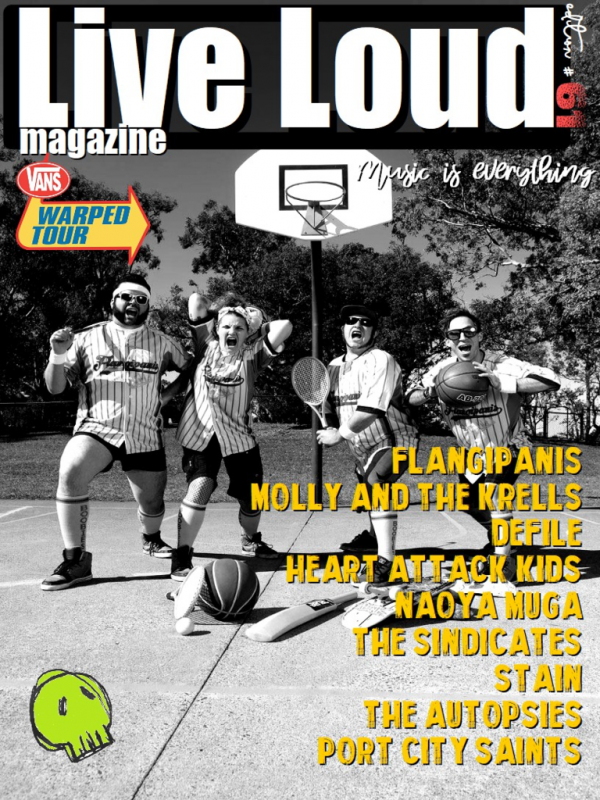 Purchase Options
Available for: iOS/Android App + Web Reader
In This Issue
Defile

Questioning the status quo and kicking your ass in the process, that's what Defile is all about. Coming to you straight out of Toronto's underground punk scene, Defile blends elements of South American punk rock, oldschool hard-core punk, thrash and metal to form a heavy hitting combination that will satisfy your hunger for aggressive rock goodness.

The Autopsies

At sunset when the doors of the morgue close, The Autopsies come out to party. A psychobilly band spawning from different areas of Southern California are raising hell and rockin all over. The band's influences ranges from punk, surf, metal, rockabilly country and even goth.

Heart Attack Kids

Heart Attack Kids, a high voltage rock and roll duo born in 2013 in London, Ontario, Canada. Consisting of Jared Ellul playing Guitar/Vox and Nathan Stock on Drums. With guitars sounding 100 feet tall and drums second to thunder, the band's powerful, high energy sound will make audiences believe there are 5 people playing instead of two.

Vans Warped Tour

Vans Warped Tour was resuscitated in Australia back in 2013 interestingly since '02 by warped big cheese Kevin Lyman, proficiently helped by Sound wave promoter AJ Maddah and his abundance of neighborhood information.

Flangipanis

Flangipanis are a male-backed 4 piece pop punk band from Brisbane. Their songs are about drinking, fucking up, getting fucked up, and sometimes fucking. They formed in 2008 a year or so later they acquired a second guitarist, and in 2011 they released their first studio album Cover Your Ears. We caught up for an interview.
Purchase Options
Available for: iOS/Android App + Web Reader
About Live Loud
Live Loud Magazine is the original music magazine app for the punk & hard rock lovers.

Whether you're into skate punk or grunge, love live music & can't miss a gig then Live Loud is your mag!

Join your community now!
Category: Dance, Lifestyle, Music, Travel & Destinations, Entertainment
Publisher: Live Loud
Published: Monthly
Language: English
Compatibility: iOS/Android App + Web Reader
Peek Inside
Tap images to enlarge...
About The Publisher
Live Loud Magazine is more than a music mag: it's your guide to a rad way of life. Punk is: the personal expression of uniqueness that comes from the... read more

Past Issues
Tap below for more from Live Loud