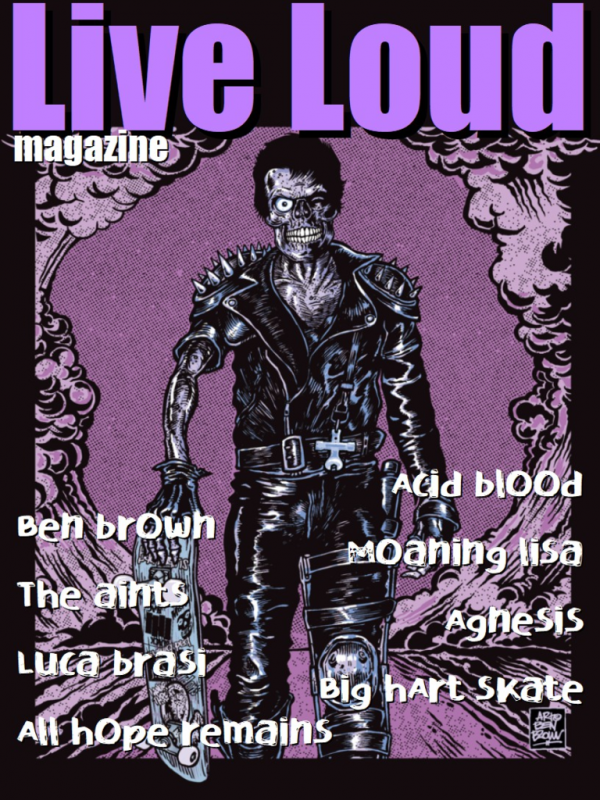 Purchase Options
Available for: iOS/Android App + Web Reader
In This Issue
Ben Brown aka mentalben

Ben Brown is a talented illustrator from Sydney, Australia that has contributed profusely to the skate, surf and punk rock scenes. Indeed, Ben Brown is quite talented at integrating his skull themes into the mix when it comes to his design, art and illustration work. And "Big Ben" Brown is a bit of an Australian art icon, to put it lightly.

The Aint's – Leading the evolution of punk rock in Australia

It is impossible to speak of Punk rock in Australia without mentioning the Saints. The band formed by four high school friends in the 70s started a musical revolution that put Australia on the map and gave voice to the angst that existed in then when Australia was under a repressive government (Kind pa like what is happening right now).

All Hope Remains new album Feel The Fire

Leave your Justin Bieber CD at home pussies, it's time to check out All Hope Remains. This up and coming punk rock band in Australia are fucking amazing with their catchy tunes and killer lyrics. The skate punk band are made up of three members who clearly have a great fucking time when they play their music to the masses.

Big Hart Skate

Big hArt has launched a project called SKATE a short while ago. This project brings raw talent from local skaters and incorporate it into a studio environment with sounds, music, colourful lightning, 3D projection and motion capture.

Moaning Lisa: Got me all in my Sunday feelings

So, I did Grooving the Moo this year again. Can't believe it's been what, 14 years since the festival was launched! This three-weekender musical orgy is unlike any other; and this year the promoters were promising over 100 acts throughout Queensland, Victoria, Australian Capital Territory, Western Australia and South Australia.

Luca Brasi – Not Just Another Band from Tassie

It's no doubt that the affable blokes that make up Tassie's Luca Brasi had a busy year. Besides touring on their own, they brought their effervescence to festivals all across Australia. If you claim to be a supporter of Punk Rock in Australia, there is no way you haven't heard of Luca Brasi.

Girl-Skater Crews Making Skateboarding Cool And Accessible For All

Everyone in the Australian Skating community knows who Thrusher are. They are one of the best all-female skating crews in Australia. This distinction between female and male skateboarders is so unnecessary. Skateboarding is a sport that requires skill, not brawn, but then we live in the fucked up world where gender distinctions are still thought to be important.

Acid Blood Launch a Full Scale Punk Rock Assault on Their New EP

Acid blood are a loud and abrasive four piece punk rock outfit from Sweden with a cut-throat ferocious sound defined by their energetic and aggressive live performances.
Purchase Options
Available for: iOS/Android App + Web Reader
About Live Loud
Live Loud Magazine is the original music magazine app for the punk & hard rock lovers.

Whether you're into skate punk or grunge, love live music & can't miss a gig then Live Loud is your mag!

Join your community now!
Category: Dance, Lifestyle, Music, Travel & Destinations, Entertainment
Publisher: Live Loud
Published: Monthly
Language: English
Compatibility: iOS/Android App + Web Reader
Peek Inside
Tap images to enlarge...
About The Publisher
Live Loud Magazine is more than a music mag: it's your guide to a rad way of life. Punk is: the personal expression of uniqueness that comes from the... read more

Past Issues
Tap below for more from Live Loud