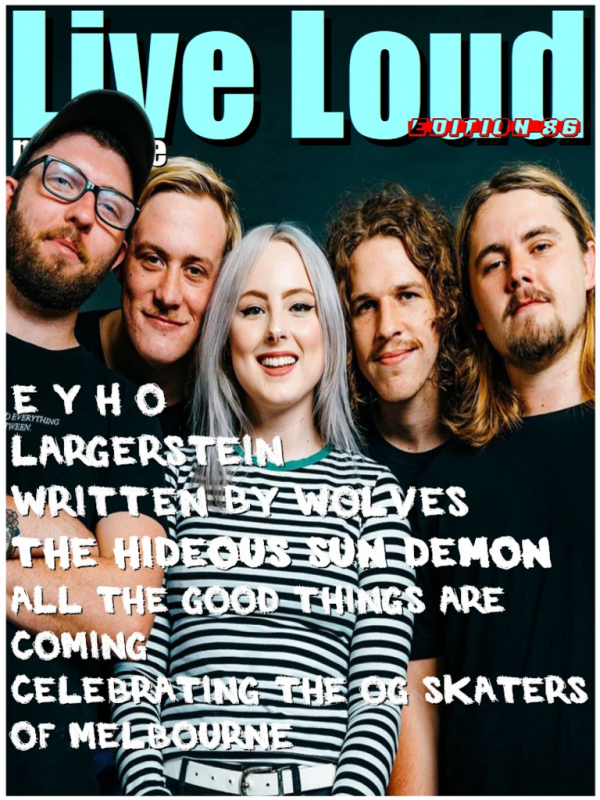 Purchase Options
Available for: iOS/Android App + Web Reader
In This Issue
Eat Your Heart Out 2019 Aussie Tour

Their Australian tour was a total success. We saw them at the Chippo Hotel in Sydney

Lagerstein

Rocking their European tour, we've caught up with the pirate metal Legends for an interview.

All the Good Things are coming

I didn't think anything could top Good Things 2018… Then Australia's newest and best alternative music festival announced this years line up! Now I'm as excited as fuck to get back to the good times at Good Things 2019.

Celebrating the OG skaters of Melbourne

Melbourne is perhaps the jewel of southern Australia. White sand beaches, great night life, wonderful standard of living. But, if you're a skater, you probably don't care about any of that. What you really want to know is, 'how are the curbs, steps, and other spots for street skating?' When skaters in the city of Melbourne lost access to iconic skate spots such as Block City, Tiles, and Lincoln Square. the city lost a lot of its reputation as a 'concrete jungle'.

Written By Wolves

These Kiwis have new material and we're excited!

The Hideous Sun Demon Raiding The Psych-rock Bar

Have you heard of The Hideous Sun Demon? Their music cuts deep. It might be about singing of how fucked up the world is; how love sucks; the struggles of the ordinary guy to make it from one day to the next; put food on the table for his family and still keep his soul in this bleak world - it's real.

Interview with Ocean Grove

On Sunday night, shortly after their massive set on the Owls stage, I caught up with some of the lads from Ocean Grove. Front man Dale Tanner, Drummer Sam Bassal and Twiggy Hunter, the ace of bass, were kind enough to answer questions.
Purchase Options
Available for: iOS/Android App + Web Reader
About Live Loud
Live Loud Magazine is the original music magazine app for the punk & hard rock lovers.

Whether you're into skate punk or grunge, love live music & can't miss a gig then Live Loud is your mag!

Join your community now!
Category: Dance, Lifestyle, Music, Travel & Destinations, Entertainment
Publisher: Live Loud
Published: Monthly
Language: English
Compatibility: iOS/Android App + Web Reader
Peek Inside
Tap images to enlarge...
About The Publisher
Live Loud Magazine is more than a music mag: it's your guide to a rad way of life. Punk is: the personal expression of uniqueness that comes from the... read more

Past Issues
Tap below for more from Live Loud