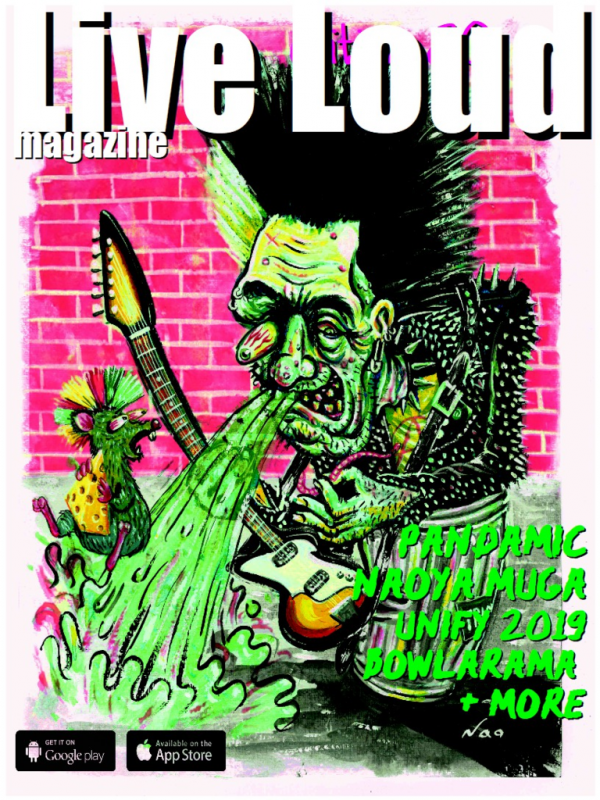 Purchase Options
Available for: iOS/Android App + Web Reader
In This Issue
Introducing The Artistic Stylings Of Naoya Muga

When it comes to art, there is this irrational need to categorize and put certain works in specific boxes. It really doesn't work because when it comes down to it, art by its very definition is in the eye of the beholder. Now Lowbrow is a kind of art that defies all convention or academic discourse.

Pandamic: More Than Just A Punk Band

Rhys, Joe, Ranji and Lyle are an anomaly. They have a certain energy, a vibrancy and an "I-don't-give-a-fuck" attitude that gets you like a sucker punch because you don't expect it from a bunch of Rocky lads. Their debut album, Scumbag was loud and chaotic and just right for them to get noticed.

Introducing: Atticus Chimp's Lead, Pretend

It's been a while since I last caught Atticus Chimp performing live, but the last time at Currumbin pub, I had a blast. They have come a long way from playing "battle of the bands" to being featured in festivals like Schema and being spoken of in the same breath as Australia's most popular bands like Skeggs.

How I Lost My Head At Unify Gathering 2019

The sun was shining, something was in the air. This was the day for Melbourne's UNIFY Gathering and you could feel the anticipation in the air. People had waited for this. Getting people who love music together in one space makes things especially magical.

2019 Bowlarama – What Went Down

Everybody knows that after California, Australia is Skateboarding country. One of the biggest skateboarding contests that everybody looks forward to is the Bowlarama. Amateurs and Pros look forward to this competition to show off their skills and to rub shoulders with some of the best skaters in the world who come to participate. 2018 was a great year for Bowlarama.

All hope remains

All hope remains are an exciting new, melodic skate punk band from Surfcoast in Victoria. The band which is made up of members from punk rock acts: Voice of Dissent, LostBoyFound and Driveby Epic. They have a distinctive sound that is fast, short, loud, catchy and filled with the right amount of angst has is reminiscent of bands like No Use For A Name, Rise Against and Bodyjar.
Purchase Options
Available for: iOS/Android App + Web Reader
About Live Loud
Live Loud Magazine is the original music magazine app for the punk & hard rock lovers.

Whether you're into skate punk or grunge, love live music & can't miss a gig then Live Loud is your mag!

Join your community now!
Category: Dance, Lifestyle, Music, Travel & Destinations, Entertainment
Publisher: Live Loud
Published: Monthly
Language: English
Compatibility: iOS/Android App + Web Reader
Peek Inside
Tap images to enlarge...
About The Publisher
Live Loud Magazine is more than a music mag: it's your guide to a rad way of life. Punk is: the personal expression of uniqueness that comes from the... read more

Past Issues
Tap below for more from Live Loud