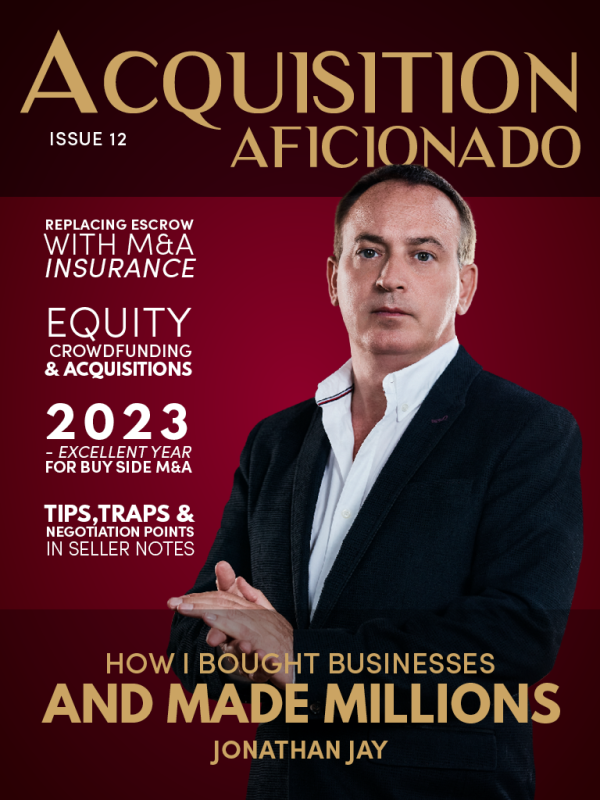 Purchase Options
Available for: iOS/Android App + Web Reader
In This Issue
Issue 12 December 2022

Tip & strategies from seasoned Acquisition masters in the field. M&A enthusiasts will learn how to acquire, grow and exit with greater success.

Seller Notes in Acquisition Deals: Tips, Traps, Negotiation Points

M&A lawyer, Eric Hsu shares the inside scoop on seller notes: legal framework, negotiation points, and some traps that you should stay away from.

Replace Your Escrow with M&A Insurance

M&A Insurance should be seen as a highly beneficial alternative to escrow agreements in M&A deals, and in this article with AcquireCover you will learn why and how you can benefit.

How I Bought Businesses and Made Millions

In this article with Jonathan Jay of Dealmakers.co.uk, he shares his business story, entrance into the world of M&A, how he started training people to buy and sell businesses and how he used the techniques he teaches to make 48 business acquisitions and millions along the way!

Is Your Lender Wanted for Wire Fraud? - Your Acquisition Due Diligence Playbook

When raising money for your new acquisition, how do you avoid getting scammed and encountering fraudsters when working on building your reputation with investors for the first time? In this article, Natu Myers gives you clarity and the tools to help.

Why 2023 Should be an Excellent Year for Buy Side M&A

In this article, Jason Paul Rogers talks about the forecast for M&A in 2023 and the fact that fear creates opportunity. History repeats! This is when the best opportunities will appear, will you be ready to seize them?

How2Exit Episode 75: Ross Tomkins - Investor, Business Mentor, Author and Mens Health Advocate

In this video, acquisition entrepreneur, Ron Skelton interviews investor, author and business mentor, Ross Tomkins.

The Difference Between Business Acquisition Agreements

Throughout the business acquisition process, there are many important documents needed from both the buyer and seller. In this article, Live Oak Bank goes into detail so you have a better understanding.

Underwriting an SMB Deal: How it Works

Josh Levine of Private Market Labs walks you through the details of how the SBA program works in M&A and how being prepared for this process can make a difference in successfully closing on an acquisition versus losing a deal due to underwriting delays.

Why Equity Crowdfunding is an Ideal Way to Fund Acquisitions

Co-founders of RaiseCapital.io share the keys to successful equity crowdfund raises.

Masterclass on Business Valuations

Sebastian Amieva & Roxxane Reid, Certified Valuation Expert present this masterclass on business valuations.

8 Secrets for Selling your Service-Based Business - Checklist

Marketing & Growth consultant, Edgar Fernandez shares an important and well organized checklist that you can use when selling your service based business.
Purchase Options
Available for: iOS/Android App + Web Reader
About Acquisition Aficionado Magazine
In Acquisition Aficionado Magazine you will receive advice & strategies as well as in-depth interviews and stories from leading experts in the business acquisition industry.
Ease the exit process and learn new tactics for business buying and selling while discovering little-known financing strategies to successfully get your deals funded. If you are passionate about acquisitions, then this magazine is for you!
Subscribe now and uplevel your acquisition success!
Category: Business & Entrepreneurship, Education, Personal Development
Publisher: Acquisition Aficionado Magazine
Published: Monthly
Language: English
Compatibility: iOS/Android App + Web Reader
Peek Inside
Tap images to enlarge...
About The Publisher
Len's professional background brings to the table over 30 years of experience in entrepreneurship & business with skill sets in sales, human behavior,... read more
Past Issues
Tap below for more from Acquisition Aficionado Magazine