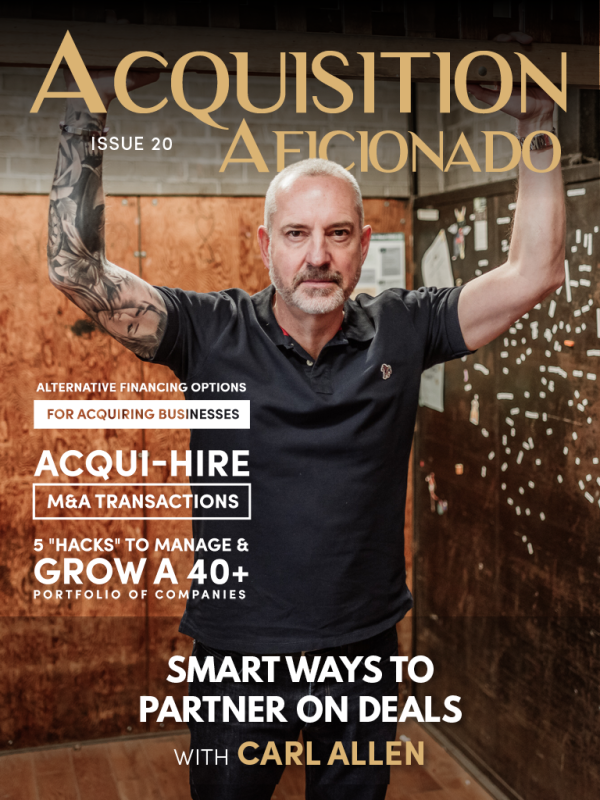 Purchase Options
Available for: iOS/Android App + Web Reader
In This Issue
Issue 20 August 2023

Tips and strategies from seasoned Acquisition masters in the field. M&A enthusiasts will learn how to acquire, grow and exit with greater success!

11 No-Money-Out-of-Pocket Ways to Fund a Deal — Roland Frasier's Keynote from the 2023 Business Acquisition Summit

Listen in to Acquisition Aficionado's Virtual Business Summit keynote speaker, Roland Frasier, as he reveals a long list of alternative financing options for acquiring businesses.

The Significance of Early Valuation Discussions in Acqui-hire M&A Transactions

Michael Newman shares why Acqui-hire M&A Transactions are unique and how early discussions around valuation are vital to ensure a seamless integration of talent and technology and to differentiate between the purchase price for the business and compensation for the founders.

Smart Ways to Partner on Deals

Master deal maker, Carl Allen shows how partnering on deals is the smart choice if you want to own multiple businesses and build wealth faster!

I Own 40+ Businesses... Here's my 5 "Hacks" - What it Takes to Grow a Portfolio Company!

Investor and advisor, Scott Oldford shares how he personally manages 40+ businesses.

Believe to Achieve: The Power of Mindset in Mergers and Acquisitions

In this article, Akhtar Khan discusses the impact of belief and mindset on business buying and business growth!

How to Buy a Company as an Acquisition Entrepreneur, Ben Rizzo Succession Stories E122 - Laurie Barkman

Laurie Barkman talks with Ben Rizzo of Hartwood Point about acquisitions and how he turned around a distressed business and sold it in just two years.

M&A Cybersecurity Due Diligence

This article, from Trudy Tetteh, explores the significance of M&A cybersecurity due diligence and its role in safeguarding companies from unforeseen cyber risks.

How to Find Businesses for Sale Highest Cash Flow

Learn how to calculate cash flow on any business for sale and analyze deals by yourself as Leo Landaverde walks you through the numbers of a listed business!

Mutually-Beneficial Relationships: Exchanging Expertise In Business Growth For Equity

Tap into a wealth of knowledge with Beki Darlin as she explains what it means to have a consultant for equity and how it can impact and benefit the success of your business!

Sales and M&A: The Intersection of Deal-Making

Two fields that drive the heart of commerce are sales and M&A. Join Edgar Fernandez as he gives 7 principles that drive success in both areas.
Purchase Options
Available for: iOS/Android App + Web Reader
About Acquisition Aficionado Magazine
In Acquisition Aficionado Magazine you will receive advice & strategies as well as in-depth interviews and stories from leading experts in the business acquisition industry.
Ease the exit process and learn new tactics for business buying and selling while discovering little-known financing strategies to successfully get your deals funded. If you are passionate about acquisitions, then this magazine is for you!
Subscribe now and uplevel your acquisition success!
Category: Business & Entrepreneurship, Education, Personal Development
Publisher: Acquisition Aficionado Magazine
Published: Monthly
Language: English
Compatibility: iOS/Android App + Web Reader
Peek Inside
Tap images to enlarge...
About The Publisher
Len's professional background brings to the table over 30 years of experience in entrepreneurship & business with skill sets in sales, human behavior,... read more
Past Issues
Tap below for more from Acquisition Aficionado Magazine