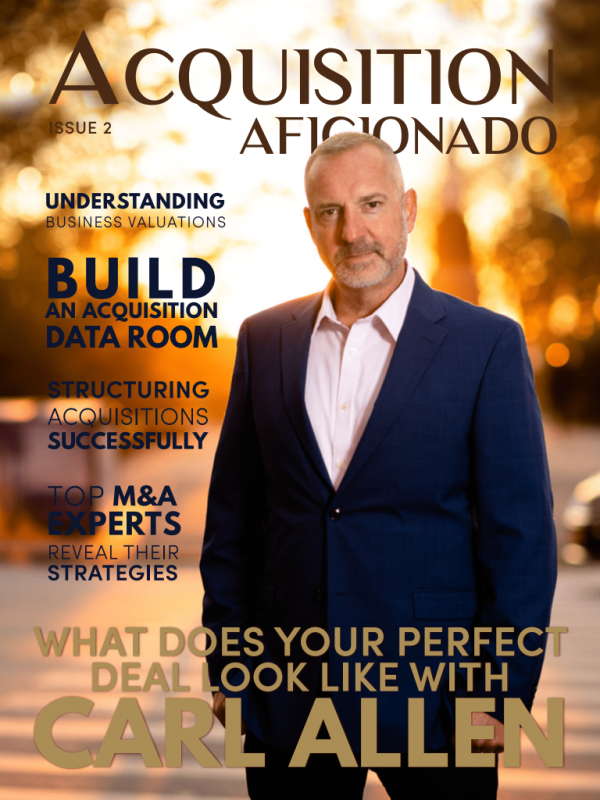 Purchase Options
Available for: iOS/Android App + Web Reader
In This Issue
Issue 2 Feb 2022

Advice & strategies from the top Acquisition experts in the field. Acquisition entrepreneurs will learn how to massively increase their business buying and selling success.

What to Include in Your Startup's Acquisition Data Room

In this article, Sebastian Amieva teaches you how to create an organized and easily accessible virtual "data room" to store critical information for your acquisition.

How to Hire a Manager to Operate Your Acquisition

In this video, Walker Deibel discusses hiring an operator to run your acquisition and some considerations to watch out for during this process. Gain valuable insight from his personal experience of acquiring seven companies over ten years.

What Does Your Perfect Deal Look Like?

Discover the secrets to finding your perfect deal with Carl Allens Perfect Deal Triad. In this article, Carl walks you through the three pillars that will help you narrow your deal specification so you can identify the opportunities that are perfect for YOU.

E: 18 Top M&A Entrepreneurs - Mathew Wainwright 60 + Acquisitions and $250M in Value

In this video, Jon Stoddard interviews 23-year-old M&A entrepreneur Mathew Wainwright on his success and experience in the acquisition field as a young entrepreneur.

Understanding Business Valuations

In this article, Christopher Wick teaches about business valuations. You will learn why they matter, how they work, the disadvantages to a poor valuation and how to make it fair for all parties involved.

Doing Deals! How I Personally Structure Acquisitions

In this podcast, Nick Bradley shares his wealth of knowledge and personal acquisition success as well as strategies on how he achieves this.

I´m on the Highway2Sell - How to Get Your Business to Sell Fast, For More and For Sure!

In this article, Christian Haack teaches that, in order to sell your business, it is of utmost importance that you stand out and think like a buyer.

Structure the Deal

In this video, Arturo Henriquez shares how to structure a no-money-down deal. He walks you through how to buy a small business with no experience and without risking your own capital.

How to Spend $5k and Make a Million

In this video, Roland Frasier interviews his "Biggest Fan Boy" Adam Lyons, to find out how he took a $5000 business and transformed it into a million-dollar company.

Why It Pays to Start Thinking About Creating Shareholder Value Now

In this video, Jeremy Harbour explains the differences between Customer Value and Shareholder Value and what you should focus on so you can move up the entrepreneurial ladder.

Off-Market Acquisition Lessons

In this article, husband and wife team Emanuel and Erica Michael teach you the benefits of hiring a Project Manager to further your acquisition success.

Sell Your Business Now or When You Retire? The Answer Might be Yes

Not sure when or how to exit your business? In this article Sergio van Luijk gives advice on exit planning strategies and how to exit your business in stages.
Purchase Options
Available for: iOS/Android App + Web Reader
About Acquisition Aficionado Magazine
In Acquisition Aficionado Magazine you will receive advice & strategies as well as in-depth interviews and stories from leading experts in the business acquisition industry.
Ease the exit process and learn new tactics for business buying and selling while discovering little-known financing strategies to successfully get your deals funded. If you are passionate about acquisitions, then this magazine is for you!
Subscribe now and uplevel your acquisition success!
Category: Business & Entrepreneurship, Education, Personal Development
Publisher: Acquisition Aficionado Magazine
Published: Monthly
Language: English
Compatibility: iOS/Android App + Web Reader
Peek Inside
Tap images to enlarge...
About The Publisher
Len's professional background brings to the table over 30 years of experience in entrepreneurship & business with skill sets in sales, human behavior,... read more
Past Issues
Tap below for more from Acquisition Aficionado Magazine