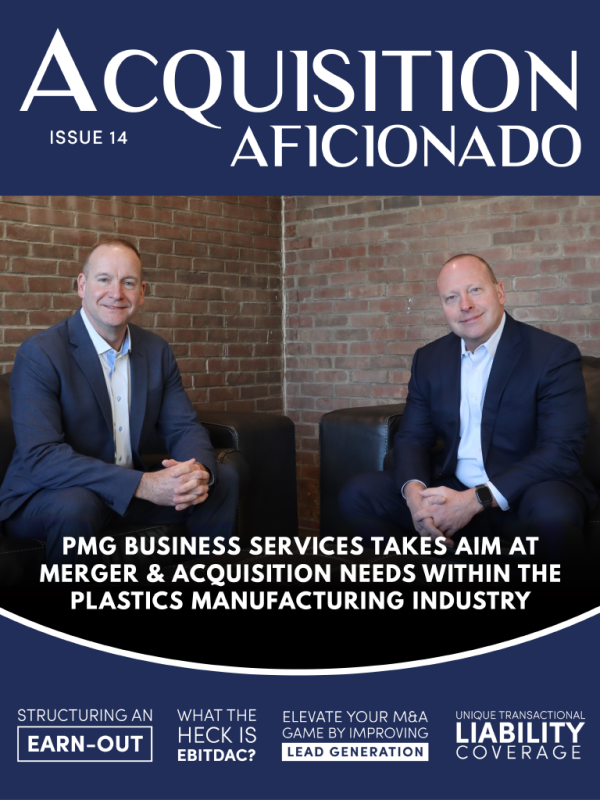 Purchase Options
Available for: iOS/Android App + Web Reader
In This Issue
Issue 14 February 2023

Tip & strategies from seasoned Acquisition masters in the field. M&A enthusiasts will learn how to acquire, grow and exit with greater success.

The Form and Function Behind Our Unique Transactional Liability Coverage

35 year veteran of the business insurance industry, Kevin Whaley, provides a brief overview of an exciting new transactional liability (TA) product for the SME market. This product is a trailblazer in the industry offering a unique sell side coverage!

How2Exit - E85: Gregory Elfrink - Director of Marketing at Empire Flippers

Ron Skelton of How2Exit shares his interview with the director of marketing at Empire Flippers

PMG Business Services Takes Aim at Merger & Acquisition Needs Within the Plastics Manufacturing Industry

Explore the world of plastics manufacturing acquisitions with PMG Business Services.

Are You in the Clear? - Successor Liability in Asset Acquisitions

Len Garza is the founder of GARZA, a law firm focused on protecting the personal and business assets of business owners. In this article, he discusses successor liability in asset acquisitions.

Elevate Your M&A Game: Score Bigger Wins with an Improved Lead Generation Strategy

Finding and qualifying leads for M&A can be a time-consuming process. Join Josh Wilkinson as he provides some great points for your arsenal in generating leads for your M&A activity.

Is Together Better? Why Integrate Your Acquisitions Technology

Many businesses integrate their acquisitions – and plenty don't. In this informative article, Dave Refault weighs the benefits and the drawbacks of both sides so you are armed with the information you need to make the best decision.

EP 227 - What the Heck is EBITDAC? The Brand New Acronym in Business Sales

Joanna Oakey talks with Cameron Ryan from Xcllusive Business Brokers about an interesting new term – EBITDAC. What does it stand for and how could it be relevant to you and your business?

The Five Factors of Value You Need to Look at When Buying eCommerce Businesses

Branden Yamada provides 5 important factors to guide you in your acquisition search of eCommerce businesses.

How to Structure an Earn-Out in an M&A Transaction

With the current economic uncertainty, earn-outs will likely become more popular as distressed sellers look to sell their businesses. Edgar Fernandez covers the key elements, advantages and disadvantages of using an earn-out, and the steps to structure an earn-out in an M&A transaction.

Mitigating Risks with IT Due Diligence: The JPMorgan Chase & Bear Stearns Merger

One critical aspect of the M&A process is IT due diligence which is an evaluation of a company's IT infrastructure, applications, and processes. Joseph Augustine gives a ton of valuable information along with a detailed case study, in this article.
Purchase Options
Available for: iOS/Android App + Web Reader
About Acquisition Aficionado Magazine
In Acquisition Aficionado Magazine you will receive advice & strategies as well as in-depth interviews and stories from leading experts in the business acquisition industry.
Ease the exit process and learn new tactics for business buying and selling while discovering little-known financing strategies to successfully get your deals funded. If you are passionate about acquisitions, then this magazine is for you!
Subscribe now and uplevel your acquisition success!
Category: Business & Entrepreneurship, Education, Personal Development
Publisher: Acquisition Aficionado Magazine
Published: Monthly
Language: English
Compatibility: iOS/Android App + Web Reader
Peek Inside
Tap images to enlarge...
About The Publisher
Len's professional background brings to the table over 30 years of experience in entrepreneurship & business with skill sets in sales, human behavior,... read more
Past Issues
Tap below for more from Acquisition Aficionado Magazine