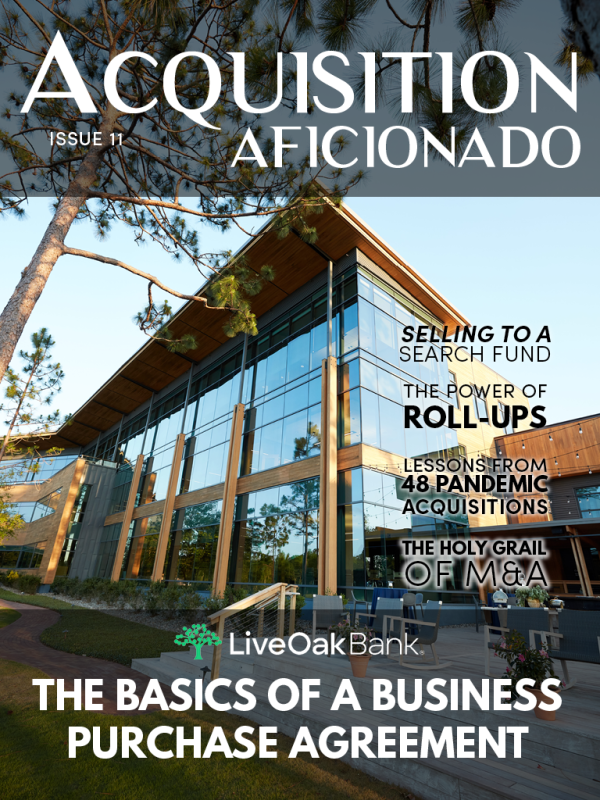 Purchase Options
Available for: iOS/Android App + Web Reader
In This Issue
Issue 11 November 2022

Tip & strategies from seasoned Acquisition masters in the field. M&A enthusiasts will learn how to acquire, grow and exit with greater success.

The Power of Roll-Ups

Carl Allen takes you through what a roll-up is, the power behind them, how you do it, and shares three power-plays with roll-ups.

Why List Price Multiples Don't Matter as Much as You Think

In this video, Joe Valley, Co-owner and Director of Brokerage Services at Quiet Light Brokerage talks with Mark Daoust, the Founder, President, and CEO of Quiet Light Brokerage.

The Basics of a Business Purchase Agreement

In this article, Live Oak Bank walks you through a business purchase agreement so you have a general understanding of each section and know what you are signing.

5 Hard Lessons Learned from 48 Pandemic Acquisitions

Master deal maker, Jonathan Jay, shares five important lessons he has learned from doing dozens of business acquisitions in a very short period of time.

4 Things You Didn't Know About M&A Insurance

AcquireCover Insurance gives valuable insight to the risks that SME sellers may face in their deal and the advantages M&A Insurance can provide.

10 Practices for Acquired Employee Onboarding in M&A -A sense of belonging as a key driver to retention and M&A value realization

Chris von Bogdandy shares how improving the onboarding process of acquired company employees will also improve the onboarding experience of hired employees, ultimately reducing turnover and driving a sense of belonging across the organization.

5 Reasons to Consider Selling Your Business to a Search Fund

In this article, the co-founders of The Hatchit Marketplace discuss how selling to a search fund can be an interesting exit alternative for certain business owners. The model has some unique attributes allowing benefits to the seller that may be unavailable with other types of acquirers.

Three Key Considerations for Maximizing Value for a Small to Medium-Sized Business -From a Business Appraiser's Perspective

In this article, you will learn from Koji Bratcher about three key factors that have some of the most meaningful impacts on the values of small to mid-sized businesses.

How2Exit Episode 60: Tim Mueller - Co-Founder and President of ITX

Ron Skelton has an in depth conversation with ITX President and Co-Founder, Tim Mueller about his company's expertise in connecting qualified buyers with middle-market clients seeking the sale of their IT-enabled businesses.​​

Value Creation: The Holy Grail of M&A

In this article, Adrian Knight, Managing Partner at Knight Equity explores the most important key drivers that increase value and how you can use them in your business.

How to Close Deals in a Recession

Edgar Fernandez of Acquire Scale and Exit gives a concise rundown of the pros and cons of closing deals in a recession.
Purchase Options
Available for: iOS/Android App + Web Reader
About Acquisition Aficionado Magazine
In Acquisition Aficionado Magazine you will receive advice & strategies as well as in-depth interviews and stories from leading experts in the business acquisition industry.
Ease the exit process and learn new tactics for business buying and selling while discovering little-known financing strategies to successfully get your deals funded. If you are passionate about acquisitions, then this magazine is for you!
Subscribe now and uplevel your acquisition success!
Category: Business & Entrepreneurship, Education, Personal Development
Publisher: Acquisition Aficionado Magazine
Published: Monthly
Language: English
Compatibility: iOS/Android App + Web Reader
Peek Inside
Tap images to enlarge...
About The Publisher
Len's professional background brings to the table over 30 years of experience in entrepreneurship & business with skill sets in sales, human behavior,... read more
Past Issues
Tap below for more from Acquisition Aficionado Magazine