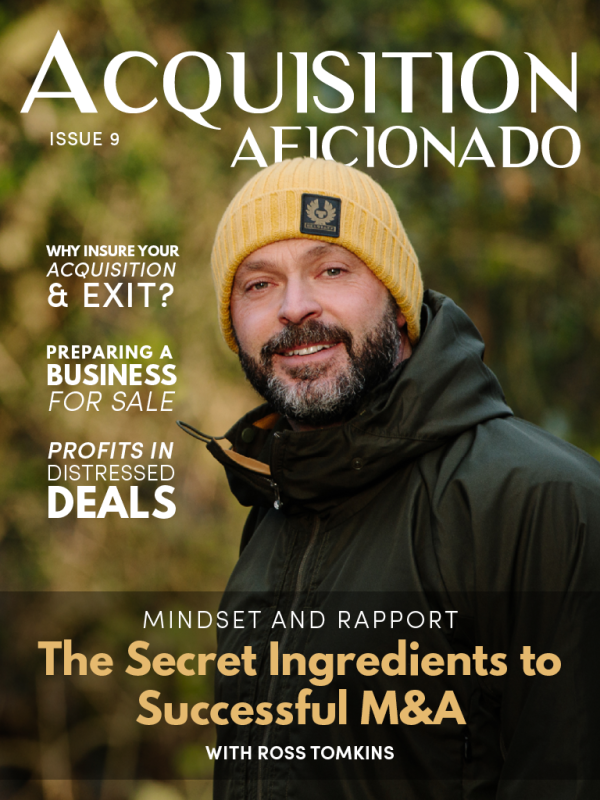 Purchase Options
Available for: iOS/Android App + Web Reader
In This Issue
Issue 9 September 2022

Tips & strategies from seasoned Acquisition masters in the field. M&A enthusiasts will learn how to acquire, grow, and exit with greater success.

Why Buy Insurance For Your Deal?

This article from Acquire Cover Insurance goes over why fit-for-purpose insurance can be a lifeline in your M&A deals.

Mindset and Rapport - The Secret Ingredients to Successful M&A

Ross Tomkins talks about two of the most important factors in acquiring a business and gives valuable ways to implement them for your success!

Profits in Distressed Deals

In this article, Mike Warren, gives you 5 things he looks for in a deal and then shows you an actual distressed deal he structured.

How2Exit Podcast: Interview with Roland Frasier-1000+ acquisitions and exits.

In this podcast, Ron Skelton does a live interview with investor and business strategist, Roland Frasier.

What to Do When Buyers Call

Jason Bean of Arch Capital Group discusses some of the best ways to handle would-be buyers who express interest in courting you for acquisition so that you can have a successful and lucrative sale.

5 Perspectives for Your Next Deal

Colton Moffitt has helped people buy and sell over one hundred businesses and in this article he gives 5 key perspectives in structuring your acquisition strategy.

Checklist for Marketing Due Diligence During Acquisitions

In this article, Matt Palmer offers some important questions to ask during your marketing due diligence to keep the sales flowing and growing post acquisition.

Preparing a Business for Sale

In this article, Jamie Simpson gives you a step by step guide so you can ensure your business will be in the top 1% of companies that are prepared for a sale.

Due Diligence in HealthCare Acquisitions

In this Part 1 of a 2-part series, John McNabb examines why you need to do due diligence, who should do it, and how to do it for tangible Practice assets.

How to Use Profit First to Make More Money & Close Deals

In this article, Edgar Fernandez focuses on how much money you're paying yourself with a quick recap of Profit First by Mike Michalowicz.
Purchase Options
Available for: iOS/Android App + Web Reader
About Acquisition Aficionado Magazine
In Acquisition Aficionado Magazine you will receive advice & strategies as well as in-depth interviews and stories from leading experts in the business acquisition industry.
Ease the exit process and learn new tactics for business buying and selling while discovering little-known financing strategies to successfully get your deals funded. If you are passionate about acquisitions, then this magazine is for you!
Subscribe now and uplevel your acquisition success!
Category: Business & Entrepreneurship, Education, Personal Development
Publisher: Acquisition Aficionado Magazine
Published: Monthly
Language: English
Compatibility: iOS/Android App + Web Reader
Peek Inside
Tap images to enlarge...
About The Publisher
Len's professional background brings to the table over 30 years of experience in entrepreneurship & business with skill sets in sales, human behavior,... read more
Past Issues
Tap below for more from Acquisition Aficionado Magazine