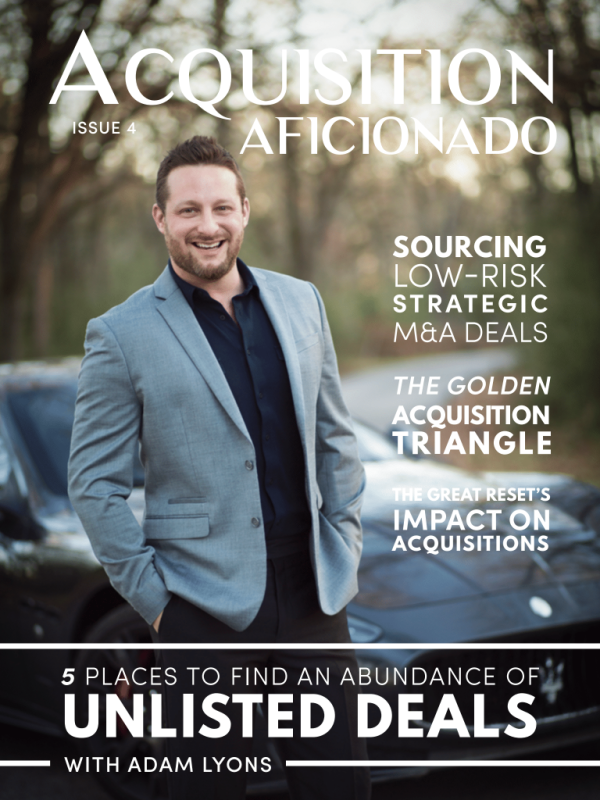 Purchase Options
Available for: iOS/Android App + Web Reader
In This Issue
Issue 4 April 2022

Strategies for sourcing unique unlisted deals along with high-level insights from the top specialists in the business buying and selling space. Learn how to acquire, grow and exit with massive success.

The Acquisition of Businesses Commercial and Real Estate

Dan Taylor discusses a case study on acquiring a business in decline that owns their own commercial real estate.

The Step-By-Step Guide to Buying and Selling E-Commerce Businesses Using SBA Loans

In this episode, Stephen Speer of E-Commerce Lending Inc., walks us through the ins and outs of acquiring online businesses using SBA loans.

5 Places to Find an Abundance of Deals (before a company is listed!)

In this article, master deal maker Adam Lyons shares his personal surefire secrets on unique ways to find business deals before they're even listed.

How to Negotiate During Business Acquisition

In this video, Roland Frasier guides you through the process of a business acquisition with 7 important keys of negotiation.

How to Source Low-Risk Strategic M&A Deals in 2022

In this interview we talk with Brian Pallas, CEO of Opportunity Network, on identifying strategic acquisition targets, the key risks to watch out for, and the most effective M&A deal sourcing strategies and tools.

How2Exit Episode 20: Marty Fahncke - executed over $400 million in Mergers and Acquisitions.

Ronald Skelton talks with M&A Advisor Marty Fahncke, who shares his many success stories and helps you to focus on the fun and financial rewards of buying and selling businesses.

Company Sellability 101: 7 Areas To Focus on For Company Sellability Success

Adam Sayler teaches you the top 7 areas you can focus on to greatly increase your business' sellability.

My House Is Sinking—Quick, Sell It!!!

Cliff Spolander teaches you how to focus on increasing the saleability of your business before listing.

How The Great Reset/Resignation Will Impact Acquisitions, LBOs & Roll-Ups

Darius Ross explains how the world's current state has impacted entrepreneurs and the M&A market. He also highlights seven key points to help you find opportunities in the M&A arena.

Buying a Business: Your Due-Diligence Checklist

In this article, M&A entrepreneur Nunzio Presta gives you a checklist to ensure you are doing your due diligence when buying a business.

27 Acquisitions & Public Co. E39: Callum Laing Top M&A Entrepreneurs

Jon Stoddard interviews founder and CEO of MBH Corporation PLC, Callum Laing, on his extensive acquisition knowledge and the benefits of agglomeration.

Three Secrets Business Sellers Are Hiding From You

Natu Myers helps you uncover the secrets that business sellers may be hiding from you so you know what to offer and have the confidence to do so.

People, Processes and Automation

In this podcast, renowned entrepreneur Nick Bradley, teaches you about the fundamental underpinnings considered essential to all businesses and commonly referred to as "The Golden Triangle".
Purchase Options
Available for: iOS/Android App + Web Reader
About Acquisition Aficionado Magazine
In Acquisition Aficionado Magazine you will receive advice & strategies as well as in-depth interviews and stories from leading experts in the business acquisition industry.
Ease the exit process and learn new tactics for business buying and selling while discovering little-known financing strategies to successfully get your deals funded. If you are passionate about acquisitions, then this magazine is for you!
Subscribe now and uplevel your acquisition success!
Category: Business & Entrepreneurship, Education, Personal Development
Publisher: Acquisition Aficionado Magazine
Published: Monthly
Language: English
Compatibility: iOS/Android App + Web Reader
Peek Inside
Tap images to enlarge...
About The Publisher
Len's professional background brings to the table over 30 years of experience in entrepreneurship & business with skill sets in sales, human behavior,... read more
Past Issues
Tap below for more from Acquisition Aficionado Magazine