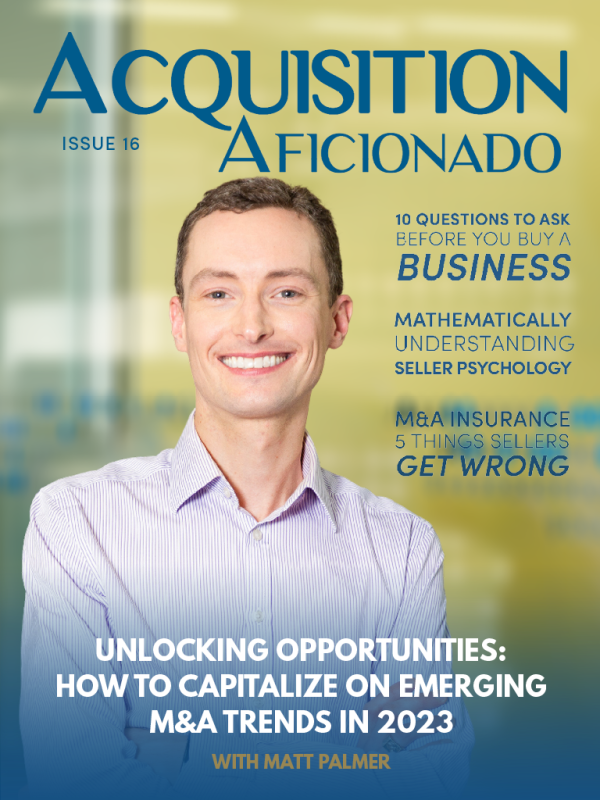 Purchase Options
Available for: iOS/Android App + Web Reader
In This Issue
Issue 16 April 2023

Tips and strategies from seasoned Acquisition masters in the field. M&A enthusiasts will learn how to acquire, grow and exit with greater success!

A Mathematical Approach to Seller Psychology

In this video, Carl Allen discusses a never seen before strategy to mathematically understand Seller Psychology.

How to Sell Your Agency and B2B Consulting Firm for 7 Figures or More

In this excerpt from exitableagency.com, Alex Nghiem explains what an exitable agency is and shares some valuable insights to help you avoid costly mistakes.

Unlocking Opportunities: How to Capitalize on Emerging M&A Trends in ‍2023

Matt Palmer, founder of WebAcquirers, talks about the emerging M&A trends in 2023 and how you can unlock new opportunities and capitalize on this vibrant M&A market.

Due Diligence for Exits

Raymond Hegarty shows how you can prepare for smooth and speedy due diligence so that you can close the investment more rapidly and get back to running your business.

Ask Yourself These 10 Questions Before You Buy a Business - Part 1 of 2

When you're looking to buy a business, you want to narrow down your options and identify the best opportunities based on your specific set of criteria. To guide your decision-making process, Yury Byalik has identified some important questions to ask both yourself and the seller.

M&A Insurance: 5 Things Sellers Get Wrong

Learn the value of M&A insurance as a form of protection, along with some of the most common client objections and answers.

Corporate Employee to Acquisition Entrepreneur

Julie Wilkinson talks with Paul Quirk as he reveals how he moved from the corporate world to acquisition entrepreneur and gives insights on what you need to know to do the same and be successful in the world of acquisitions.

The Transformative Power of AI in M&A Deal Sourcing

Join Edwin Mik as he discusses how sourcing high-quality acquisition targets is one of the most time-consuming and challenging aspects of the M&A process but that artificial intelligence is revolutionizing this process.

How to Identify a Motivated Seller

If you never saw selling your company as a viable option to move into a new phase of your life, this article, with Edgar Fernandez will provide you with a few questions to help you come to a decision along with some tips on setting up an emergency exit plan.
Purchase Options
Available for: iOS/Android App + Web Reader
About Acquisition Aficionado Magazine
In Acquisition Aficionado Magazine you will receive advice & strategies as well as in-depth interviews and stories from leading experts in the business acquisition industry.
Ease the exit process and learn new tactics for business buying and selling while discovering little-known financing strategies to successfully get your deals funded. If you are passionate about acquisitions, then this magazine is for you!
Subscribe now and uplevel your acquisition success!
Category: Business & Entrepreneurship, Education, Personal Development
Publisher: Acquisition Aficionado Magazine
Published: Monthly
Language: English
Compatibility: iOS/Android App + Web Reader
Peek Inside
Tap images to enlarge...
About The Publisher
Len's professional background brings to the table over 30 years of experience in entrepreneurship & business with skill sets in sales, human behavior,... read more
Past Issues
Tap below for more from Acquisition Aficionado Magazine