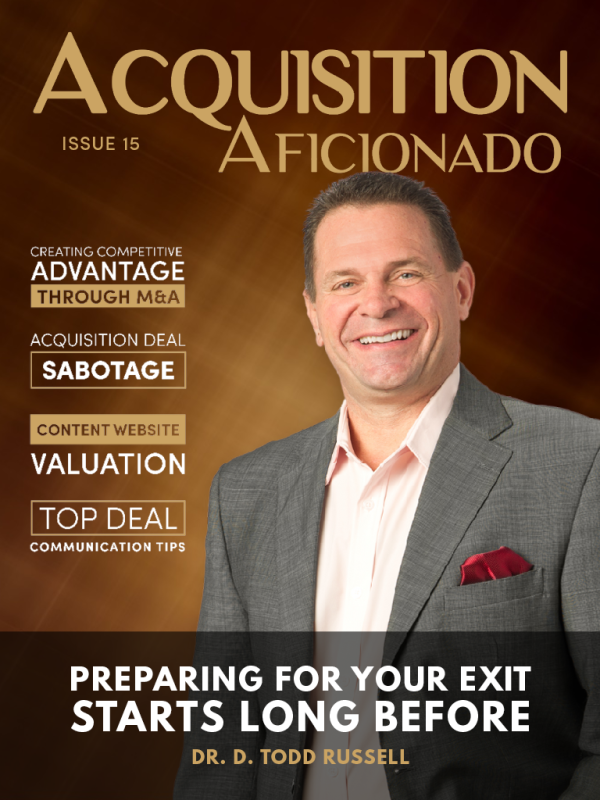 Purchase Options
Available for: iOS/Android App + Web Reader
In This Issue
Issue 15 March 2023

Tips and strategies from seasoned Acquisition masters in the field. M&A enthusiasts will learn how to acquire, grow and exit with greater success!

Content Website Valuation – How Much is Your Website Worth?

Tiam Jafari, Chief Strategy & Investment Officer at TreasureHunter gives insight on how Content Websites are valued so you can get a better idea of what your website may potentially be worth.

Epic Myth about Creating Competitive Advantage through M&A

Join Anirvan Sen as he shows that creating a true competitive advantage happens in M&A when two companies bring their core strengths to collaborate and create a new or highly improved solution.

Preparing for Your Exit Starts Long Before

Lessons that help you prepare for a successful exit from award-winning dentist to acquisition artist, Dr. D. Todd Russell.

Most Important Factors to Know When Buying a Business: Contacting the Owner

Once you know your acquisition criteria and type of business it is time to make contact and have a conversation. Roland Frasier walks you through this and even gives a script!

Selling Your Business Within 5 Years? 7 Things To Do Now

Good preparation leads to a significantly improved outcome! If you are thinking about selling your business within the next 5 years, here are 7 things that The Hatchit Team says you should do now.

What D&O Brokers Should Know about M&A Deals

This article from Acquirecover shows how D&O brokers can make sure clients are fully aware of the risks associated with M&A, and that they understand what really happens when they sell their business.

Deal or No Deal: The Frustrating Reality of Acquisition Deal Sabotage

Rob Williams, of Scale up Your Business, shares some of the most common pitfalls in M&A deals and how to learn from them.

How2Exit Ep 104: Marc Morgenstern, Author, Mentor, and Capitalist: Leveraging 45+ Years Of M&A Experience

Join Ron Skelton as he talks with Marc who has done 100's of M&A and venture capital deals as a seller, buyer, investor, C-Suite, Managing Partner, deal lawyer, Director, or investment banker.

How to Have a Great First Call with a Seller

Edgar Fernandez shares 9 tips on how you can have a productive and successful call with a seller and determine whether a potential deal is a good fit for both parties.
Purchase Options
Available for: iOS/Android App + Web Reader
About Acquisition Aficionado Magazine
In Acquisition Aficionado Magazine you will receive advice & strategies as well as in-depth interviews and stories from leading experts in the business acquisition industry.
Ease the exit process and learn new tactics for business buying and selling while discovering little-known financing strategies to successfully get your deals funded. If you are passionate about acquisitions, then this magazine is for you!
Subscribe now and uplevel your acquisition success!
Category: Business & Entrepreneurship, Education, Personal Development
Publisher: Acquisition Aficionado Magazine
Published: Monthly
Language: English
Compatibility: iOS/Android App + Web Reader
Peek Inside
Tap images to enlarge...
About The Publisher
Len's professional background brings to the table over 30 years of experience in entrepreneurship & business with skill sets in sales, human behavior,... read more
Past Issues
Tap below for more from Acquisition Aficionado Magazine