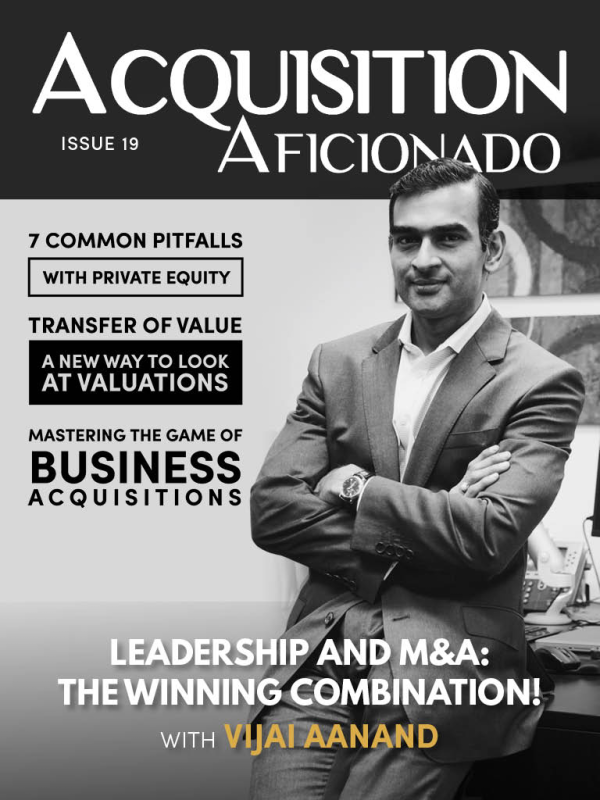 Purchase Options
Available for: iOS/Android App + Web Reader
In This Issue
Issue 19 July 2023

Tips and strategies from seasoned Acquisition masters in the field. M&A enthusiasts will learn how to acquire, grow and exit with greater success!

Seizing Opportunities: Maximizing Success & Navigating Pitfalls in Selling Your Company to a Private Equity Firm

In this article, Nick Ayala goes over 7 common pitfalls to look for when considering selling to a PE firm, in hopes that they can help you in your decision of being acquired, or not.

How2Exit Episode 76: John Kettley: A Serial Acquisition Entrepreneur w/ 27+ Deals and Counting

Join Ron Skelton as he talks with entrepreneur John Kettley about his process for acquiring businesses, his experience as a turnaround specialist and how he sources deals.

Leadership and M&A: The Winning Combination for Success

Join acquisition entrepreneur and leadership coach, Vijai Aanand as he shares how the right leadership can turn challenges into incredible opportunities for growth and success in the world of M&A.

Transfer of Value

Carl Allen gives you an insiders exclusive on how to look at valuations. No one else offers this unique knowledge so you will want to pay close attention!

What Type of Buyer are You?

Investor and Business Advisor, Jeramiah Townsend talks about 1 question that most people aren't asking, but it must be answered in order to help you successfully buy a business.

Master the Game of Business Acquisition with Della Kirkman

Della Kirkman is committed to encouraging women to pursue their dreams of entrepreneurship through acquisition. Listen in as she is interviewed and shares her success story.

Leveraging a Lean Tech Stack and AI for Rapid Acquisition Success: The Acquisition Aficionado Way

Edgar Fernandez shows you how to construct a lean tech stack to help you take care of lead generation to email marketing, lead qualification, meeting bookings, and integration.

The Hidden Goldmine: Making Millions from Boring Old Businesses!

Roland Frasier shares why boring old businesses could be the untapped goldmine you've been searching for to make millions in the world of business!

5 Steps of a Human Funnel

Steven Kuhn walks you through how to drastically improve your business, your revenue, the money in your pocket and the quality of relationships you forge, all based on what he refers to as HIT.

Is M&A Insurance Right for My Deal?

This article from Acquirecover Insurance gives insight to help SME business owners, wanting to exit, decide on whether M&A insurance is a good fit for their deal.
Purchase Options
Available for: iOS/Android App + Web Reader
About Acquisition Aficionado Magazine
In Acquisition Aficionado Magazine you will receive advice & strategies as well as in-depth interviews and stories from leading experts in the business acquisition industry.
Ease the exit process and learn new tactics for business buying and selling while discovering little-known financing strategies to successfully get your deals funded. If you are passionate about acquisitions, then this magazine is for you!
Subscribe now and uplevel your acquisition success!
Category: Business & Entrepreneurship, Education, Personal Development
Publisher: Acquisition Aficionado Magazine
Published: Monthly
Language: English
Compatibility: iOS/Android App + Web Reader
Peek Inside
Tap images to enlarge...
About The Publisher
Len's professional background brings to the table over 30 years of experience in entrepreneurship & business with skill sets in sales, human behavior,... read more
Past Issues
Tap below for more from Acquisition Aficionado Magazine