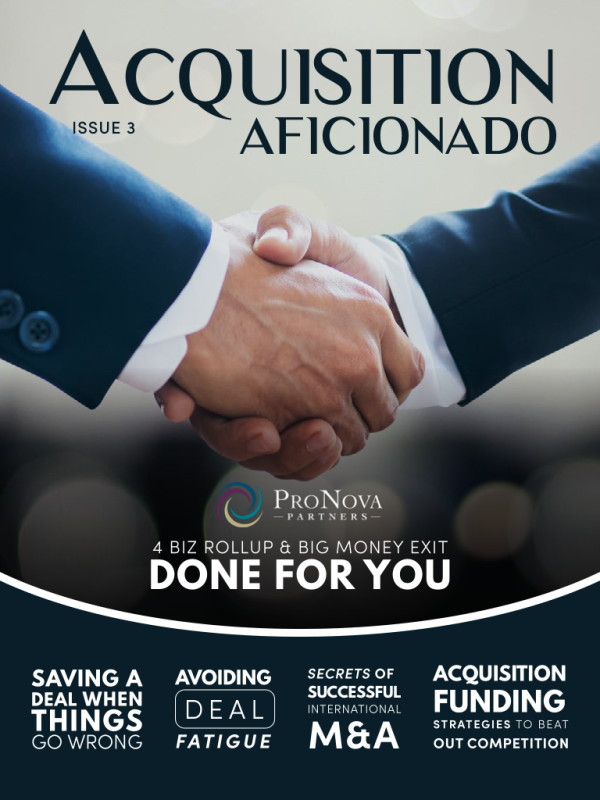 Purchase Options
Available for: iOS/Android App + Web Reader
In This Issue
Issue 3 March 2022

Tactics & strategies from seasoned Acquisition masters in the field. Acquisition enthusiasts will learn how to acquire, grow, and exit with more success.

Is an Asset Deal Always the Right Solution for Your M&A Transaction?

Elie Bourdilloud shows the pros and cons between an asset deal and a share deal while helping you discern which one is right for your M&A deal.

Top M&A Entrepreneur - Sebastian Amieva Investor | Mentor | M&A Expert

In this video, Jon Stoddard interviews seasoned M&A entrepreneur Sebastian Amieva. Unlock the secret to doing successful international acquisition deals.

Big $ Exits Made to Order By Damian Loth

Rick Carlson is an M&A advisor with a 'hyper growth and exit' strategy for aggressive acquisition entrepreneurs.

The Fab Five of Acquisition Funding

In this article, Parnell Speed gives you five specific funding strategies to fund your business acquisition.

How To Discover Your Small Business Superpowers

Daniel Sweet helps you to discover how to use your Small Business Superpowers to beat out the bigger competition in small business acquisitions.

How to Save a Deal When Things Go Wrong

In this episode of The Deal Room, host Joanna Oakey speaks with Ian Jones on how to save a deal gone wrong. Learn how to establish effective communication, the importance of motivation and how to avoid deal fatigue.

IT Mentors/Consultants are Critical to the Success of M&A Deals

In this article, Joseph Augustine helps you to understand why it is essential that IT professionals/mentors are brought into the M&A deal early.

An Insiders View on M&A in the Health and Beauty Niche

In this interview, Tina Bradley shares tips and strategies from her own successful involvement in mergers and acquisitions.

Accidental Acquisitions

In this article, Darnell Phelps shares his unique acquisition success stories

BUYER BEWARE The Global Trade Compliance Risk of M&A

Leslie Levy August teaches you, in detail, the ins and outs of global trade compliance and how you can avoid potential issues by using this knowledge in your due diligence.

How Crowdfunding with ChainRaise Will Change Your Next Acquisition

In this article, Corey Goodlander talks about Crowdfunding and how it extends the ability for businesses and other projects to raise and acquire capital through a larger pool of investors.

Is this the most frustrating thing about small acquisitions?

In this video, Richard Tunnah shares his knowledge on the importance and benefits of having a solid management account for your small business exit.
Purchase Options
Available for: iOS/Android App + Web Reader
About Acquisition Aficionado Magazine
In Acquisition Aficionado Magazine you will receive advice & strategies as well as in-depth interviews and stories from leading experts in the business acquisition industry.
Ease the exit process and learn new tactics for business buying and selling while discovering little-known financing strategies to successfully get your deals funded. If you are passionate about acquisitions, then this magazine is for you!
Subscribe now and uplevel your acquisition success!
Category: Business & Entrepreneurship, Education, Personal Development
Publisher: Acquisition Aficionado Magazine
Published: Monthly
Language: English
Compatibility: iOS/Android App + Web Reader
Peek Inside
Tap images to enlarge...
About The Publisher
Len's professional background brings to the table over 30 years of experience in entrepreneurship & business with skill sets in sales, human behavior,... read more
Past Issues
Tap below for more from Acquisition Aficionado Magazine